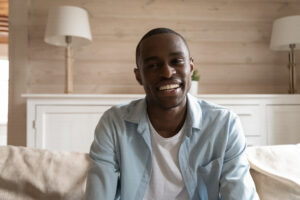 When you feel dissatisfied by your smile, you should know that there are services that can help you. At our Santa Monica, CA dentist's office, we can discuss the different treatment options we provide to those who wish to do something about the presence of teeth that are misshapen, damaged, discolored, or otherwise flawed. One option relies on remarkably thin restorations that can deliver long-term improvements while only making minimal change to tooth structure. Lumineers, a slimmer alternative to traditional veneers, help by making smiles brighter and more uniform, and by covering dental damage. In just two appointments, the placement of Lumineers can have lasting benefits for your appearance!
Can Conservative Cosmetic Services Have Long-Term Benefits?
You may be surprised at just how much good conservative cosmetic services can be at improving how you look. The placement of Lumineers can reduce the amount of preparatory work needed when placing traditional veneers. In some cases, you can have these restorations set in place without the removal of enamel to make space for them. When in position, your Lumineers can make your teeth appear brighter, and they can cover damages and problems with shape and size that make them a poor fit for your smile.
Planning Treatment With Your Lumineers
Lumineers are customized for patients. The planning process will see your dentist take careful measurements of your teeth to make sure you receive restorations that are just right for you. If we find any preparatory work necessary before placement, we can provide it at your initial visit. You will return when your appliances are ready. After we affix them to their corresponding teeth, your thin veneers can have a great and lasting effect on how you look!
Reviewing Other Treatment Options Available To You
There are different services that are available to our patients who want to change how they look. We do offer traditional veneers in addition to Lumineers, which can help some patients ensure that they see the right results. We can also discuss targeted services, such as teeth whitening treatment or work with clear aligners, which are focused on discoloration and poor spacing respectively.
Talk To Your Santa Monica, CA Dentist About Cosmetic Changes Made With Lumineers!
With Lumineers, our practice can make cosmetic treatment surprisingly conservative and preserve more of your enamel. These thin, durable restorations are carefully designed so that they fit over the surfaces of teeth to cover discoloration, dental damage, issues with spacing and tooth shape, and more! We are happy to help you explore your options for cosmetic care and see what procedure might be right for you. If you have questions or wish to find out more about how we can help you, call Santa Monica Dental Arts in Santa Monica, CA today at 310-395-1261.