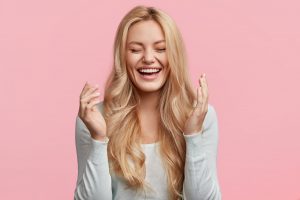 If you are tired of singling out the flaws that affect your smile in every picture, and every time you check your teeth in the mirror, talk to your Santa Monica, CA dentist about cosmetic dental work. You may find that the right procedure can lead to big changes, and that your improved smile may be more attainable than you currently realize. Veneers have helped many people make improvements to the color, condition, and even alignment of their teeth. You can look into smile improvements with traditional veneers, or you can discuss Lumineers. Lumineers are slimmer than normal veneers, so they can require less preparatory work on teeth before placement.
What Kind Of Smile Issues Can You Address With Veneers?
Veneers are popular with people who want to change the look of their teeth because they are capable of hiding a variety of different flaws. For instance, a person might find that veneers are effective at covering a gap in their smile, as well as issues with discolored teeth. You might be interested in them because you want to hide minor dental damage, or make an underdeveloped tooth appear normal. In some cases, people even use veneers as an alternative to a traditional teeth whitening procedure, as veneers are up to the task of covering internal stains.
Making Sure Your Veneers Are Exactly Right For Your Teeth
Before you have your veneers placed, your dentist can speak with you about your goals for cosmetic dental work, and check on the condition of your teeth. This initial evaluation is an important one for several reasons. By performing this initial review, your dentist can identify any oral health issues that may affect your appearance, and recommend a more appropriate course of action. For instance, you may need to make sure a tooth has functional support, which a dental crown can provide. This review can also determine whether standard veneers or Lumineers are more appropriate for your smile goals.
Enjoying Life With Your Improved Smile
Veneers are more than just a short-term boost to your confidence. Veneers and Lumineers are meant to provide a permanent change to the way you look, and they are permanently secured in place on the front of your teeth. To make sure they remain in good condition, keep up with effective oral hygiene habits. You should also be aware that veneers, while stain-resistant, should be protected against discoloration. Limit how often you consume dark or color-rich liquids to protect against this problem.
Learn More About Veneers During An Appointment At Santa Monica Dental Arts
At Santa Monica Dental Arts, people interested in smile improvements can benefit from the experience and skill of Dr. Moeiz Koshki. Our practice is proud to serve the Santa Monica, CA community, and the surrounding areas. To find out more about the services we provide, or to schedule a consultation with Dr. Koshki, call Santa Monica Dental Arts in Santa Monica, CA today at 310-395-1261.