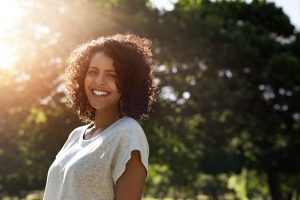 When you begin to look into teeth whitening treatment, you can have a clear picture in your mind of how you want your smile to look.  While store bought whitening products can have limited benefits, a whitening treatment provided by your dentist can help you see significant changes in the color of your enamel. Of course, once you have these changes, what will you have to do to preserve them? It may be necessary to change your diet, as this adjustment can limit your exposure to products that cause discoloration. To further help you, our Santa Monica, CA dentist's office can provide you with a take-home whitening kit and gels that you can use to "touch up" your smile after you undergo your original teeth whitening procedure!
Have You Struggled To Avoid Teeth Stains In The Past?
If you have had a difficult time preventing teeth stains in the past, it can be fair to worry that the problem will return after a whitening procedure. While changes in your routine can be beneficial, our practice understands that it can be hard to sustain an optimal brightness because so many different items are able to discolor your enamel. Fortunately, a take-home whitening kit can help you address stains once they start to become a concern, which means you will be able to keep your smile bright!
Using Your Take-Home Whitening Kit To Touch Up Your Smile
Your take-home whitening kit will include custom trays shaped and sized to fit your teeth along with gels that you can use to "touch up" your smile. By applying these gels, you can fight the recently accumulated stains that have started to alarm you and make you self-conscious.
Preserving A Bright Smile After Having Veneers Placed
Patients who want brighter teeth do not always choose teeth whitening treatment. For some, porcelain veneers make more sense because they address other flaws, or because they deal with intrinsic discoloration that whitening agents do not address. The porcelain used to make veneers can naturally resist the accumulation of stains. However, it is possible for dark liquids to gradually change their color. Talk to your dentist about how you can preserve the color of your restorations, as these materials cannot be brightened with bleaching agents the way that your enamel can!
Our Santa Monica, CA Dentist's Office Can Give You A Brighter Smile!
Your Santa Monica, CA dentist's office is prepared to help you make your smile brighter and keep teeth bright! You can use your take-home whitening kit to fight the accumulation of new stains and maintain the appearance that makes you comfortable. To learn more about this and other cosmetic services we offer, call Santa Monica Dental Arts in Santa Monica, CA today at 310-395-1261.