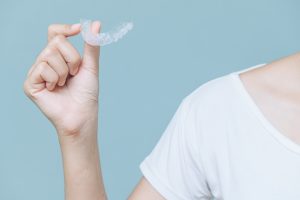 If you think orthodontic treatment is going to be inconvenient or uncomfortable, you can deprive yourself of exciting smile improvements. What you might not realize is just how easy it is for you to fit orthodontic treatment into your daily life…when you have the right appliance. At our Santa Monica, CA dental practice, patients can enjoy quality smile improvements by having your teeth adjusted with clear braces! By using Invisalign appliances or ClearCorrect removable braces to move your teeth, you can move teeth that are poorly spaced, or otherwise appear crooked. By fixing this problem, your smile can be more symmetrical and attractive. You can also enjoy some important oral health benefits that come from orthodontic improvements.
Could You Benefit From Efforts To Straighten Your Teeth?
If your teeth appear crooked, or if you have any gaps or overlaps that make them appear uneven, you can see benefits from straightening your smile. For some people, these naturally occurring problems have always been a concern, even as a correction has been delayed. Others may notice that their teeth are shifting again after a past adjustment. Clear braces can be beneficial in these different circumstances, and you can see quality cosmetic dental improvements as a result.
Wearing Clear Aligners In Your Daily Life
Clear aligners are designed to minimize interference from orthodontic work in your daily life. Your comfort throughout your adjustment is made a priority at our practice. Even before your adjustment officially begins, you can enjoy a more comfortable experience because we use an iTero digital scanner to digitally plan your appliances. When you begin wearing your custom aligners, you can be happy to see how easy it is to wear them in social and business settings without worrying about the way you look. You can also be glad to find out how easy they are to remove when you eat, or when you need to clean your teeth.
We Can Help You Show Off Your Best Smile!
Through modern orthodontic treatment, our practice can help you show off your best smile. Fixing gaps, overlaps, and other concerns related to poor dental alignment can boost your confidence while also helping with your bite function. If you want to make truly impressive changes to the way you look, we can discuss following your orthodontic correction with a teeth whitening procedure to create a dramatic improvement in your smile.
Santa Monica Dental Arts Offers Treatment With Modern Orthodontic Appliances
At Santa Monica Dental Arts, patients can count on impressive cosmetic services! For individuals who want to do something about poor dental alignment, Dr. Koshki can provide care with ClearCorrect aligners or Invisalign appliances. If you have questions about these products, or any other cosmetic treatment available through our office, call Santa Monica Dental Arts in Santa Monica, CA today at 310-395-1261.