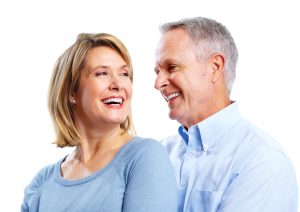 If you try to adjust to life without your full smile, you can quickly discover how much this problem can impact you. A single missing tooth will interfere with your ability to bite and chew food, which can lead to discomfort. It can also be hard to avoid feelings of unease about the way you look, as an incomplete smile can cause people to see you as less healthy or attractive. The good news is that your Santa Monica, CA dentist's office is prepared to help you recover from this problem. Through implant dentistry, we can help you regain your bite function and improve your appearance. Another important benefit to treatment is that you will be able to prevent problems with jawbone resorption, which affects people after they lose teeth.
How Implant Dentistry Helps Those Who Have Lost Teeth
Dental implants are small titanium posts that hold replacement teeth in place. They provide a permanent solution for a problem with tooth loss. A dental crown, dental bridge, or denture is secured by one or more of these posts. They are held against the jawbone in an arrangement that mimics the way our roots keep teeth in place. The arrangement is stable enough to let you bite and chew without problems.
Will You Be A Good Candidate For Implant Placement?
Many people can receive approval for dental implant placement. However, there may be issues that need to be addressed before you can move forward with treatment. One issue is poor periodontal health, which is often the cause of tooth loss. Fortunately, our practice has a periodontal specialist on site, so you can receive the appropriate care to move forward with prosthetic dentistry.
Life After Your Smile Is Fully Restored
You will need to wait an appropriate period of time to heal after your implant has been placed. Once you are ready, you will return to our office to have your restoration secured. At this point, you can more confidently bite, chew, speak, and smile, as the prosthetic will be stable enough to support your dental functions. When you keep up with a good oral hygiene routine, you can prevent complications from occurring and interfering with your treatment. Regular dental exams will provide helpful updates about your oral health, and help you make sure that your implant is still in good condition.
Talk To Your Santa Monica, CA Dentist About Implant Dentistry
Through implant dentistry, we can do more than just give you back your complete smile. Your secured restoration can improve your bite function, and the implant will help you maintain jaw health and stabilize neighboring teeth! To find out how treatment can benefit you, call Santa Monica Dental Arts in Santa Monica, CA today at 310-395-1261.