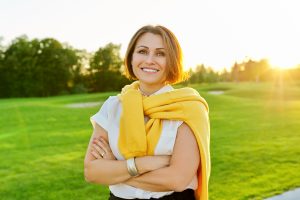 Do you pay enough attention to your gums? Are you prepared to identify the symptoms of gingivitis? These questions can be more important than you realize, as poor periodontal health can have serious consequences. The good news is that your Santa Monica, CA dentist's office can help you stay informed about your dental and periodontal health. At a routine dental exam, you can receive helpful warnings about signs of gingivitis, which can be addressed through a periodontal cleaning. If you have more severe issues with your gums already, we have an on-site periodontist, Dr.Justine Hoda Hai, who can meet with you and discuss your care.
Are Your Gums Unhealthy? Your Dentist Can Let You Know
There are signs of gingivitis that you can recognize on your own. If you have a recent issue with bleeding while brushing and flossing, poor gum health can be the cause. You may also notice that tissues appear swollen, or that your gum line is starting to recede. You can protect your gums by sticking to good oral hygiene habits, but make sure that you are also consistent with regular dental exams. At these visits, your dentist can thoroughly look at your teeth and gums to determine whether professional services are called for.
Why You Might Need To Meet With A Periodontist
For a patient who is affected by gingivitis, we can recommend a periodontal cleaning. This procedure, also known as a scaling and root planing, removes bacteria that are already gathering below your gum line. After we remove these bacteria, your tissues can return to good health. For a person who already shows signs of more serious gum disease, we can arrange a meeting with our on-site periodontist. When necessary, we can provide more involved services that address the effects of periodontal disease.
Practicing Good Preventive Care Can Help You Avoid Gum Disease
Just as you should have a good daily oral hygiene routine in place to prevent problems requiring restorative dental work, you should practice good habits to avoid difficulties with gum disease. Both brushing and flossing keep your smile free of plaque and tartar buildup that can cause cavities and gingivitis. To keep your gums safe, be sure to clean at the base of your teeth during each day.
Talk To Your Santa Monica, CA Dentist's Office About Your Periodontal Health Concerns
Santa Monica Dental Arts is ready to help our patients maintain healthy, happy smiles by protecting their gums as well as their teeth. Because we offer on-site periodontal care as well as dental services, we can help you avoid difficulties that can become detrimental to both your appearance and well-being. To find out more, please reach out to our dentist's office in Santa Monica, CA today at 310-395-1261.