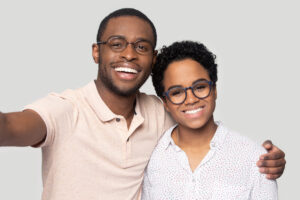 When you have a serious cavity, a problem with an injured tooth, or concerns about one that is just not the right shape or size to support your bite health and appearance, we can recommend that you receive a porcelain crown. Our Santa Monica, CA dentist's office can provide a crown that matches your healthy enamel and is secure enough to offer lasting benefits for your bite function as well as your appearance. In addition to this restorative service, we do use more conservative veneers for treatments that are specifically meant to address cosmetic concerns.
Planning Treatment With A Crown That Can Improve Your Smile
If you need dental work because of a cavity or tooth injury, you may have concerns that your treatment, while important for your oral health, might affect your appearance in ways that are undesirable to you. Fortunately, there are restorations that manage to provide protection as well as cosmetic benefits. With a porcelain crown, we can help you take care of chipped or cracked enamel, problems with advanced dental decay, and more without altering your appearance. If your tooth is currently a poor fit for your smile, your procedure can actually improve the way you look!
We Provide Personalized Restorations That Offer Lasting Support
When treating problems with your smile and oral health, we can use custom restorations that remain securely in place without disturbing neighboring teeth. Porcelain crowns are carefully designed so that they fit securely and look natural, and to confirm that they are strong enough to hold up against the pressure generated when you bite and chew food. Because we take care to digitally measure teeth being restored, we can confirm that your crown will provide the right kind of stability and cosmetic benefits!
Should I Plan Treatment With Veneers Or Crowns?
If you have problems with your oral health that also affect your appearance, porcelain crowns are certainly helpful. However, what can you do if you are only concerned about improving your smile? With porcelain veneers and Lumineers, we can change the shape, size, and color of teeth with more conservative restorations that only cover the front surfaces of teeth. This can lead to lasting esthetic changes that you are eager to show off while reducing the amount of work done to your tooth structure!
Talk To Your Santa Monica, CA Dentist About Treatment With A Porcelain Crown
When you receive a porcelain dental crown, you can count on it to provide lasting functional support and cosmetic benefits. Our practice is prepared to help patients with different goals see the right improvements from their restorations. Thanks to digital imaging technology, we can take care to thoroughly evaluate you and plan your procedure in order to provide work of lasting quality. If you would like to find out more, call Santa Monica Dental Arts in Santa Monica, CA today at 310-395-1261.