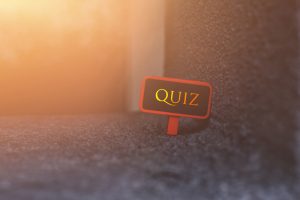 Knowing what you want to change about your smile is one thing, but patients interested in cosmetic dental work may not know what procedure will best provide the results they want. If you want more information tailored to your needs, schedule a cosmetic consultation with your dentist. They can listen to you describe your ideal smile, and determine what issues you face. Of course, a better understanding of your options can make it easier to know what to ask for. Many people will find that their needs are met with porcelain veneers, which cover the front of their teeth with natural-looking porcelain shells. However, your needs, and the state of your smile, may lead your dentist to recommend something different.
Questions:
True Or False: A professional whitening treatment is effective against every type of dental discoloration that could ever affect someone's teeth.
True Or False: Lumineers are made from the same material as conventional veneers, but boast a thinner design.
True Or False: Some patients will qualify for treatment with Invisalign or ClearCorrect, which use clear aligners to subtly correct alignment issues.
Answers:
False! Professional whitening treatments are used to attack accumulated enamel stains, but there are other problems that can lead to discoloration. If you have what is known as intrinsic discoloration, a different procedure can be recommended.
True! Lumineers are made of porcelain, but they are thinner, which means less preparatory work will be needed to make space for them on your teeth.
True! Some patients will need more dramatic adjustments, but if your dentist approves you for treatment, Invisalign and ClearCorrect can reposition your teeth with hard to observe clear aligners.
Learn How Dr. Koshki Can Help Address Your Cosmetic Dental Flaws
At Santa Monica Dental Arts, Dr. Koshki can take care of your cosmetic dental needs, and send you back into the world with a terrific smile. Our practice offers several different treatment options, and we work with patients to make sure they have the right treatment, and the results they desire. To learn more about the services we provide to our patients, or to schedule a consultation with Dr. Moeiz Koshki, call Santa Monica Dental Arts in Santa Monica, CA today at 310-395-1261.