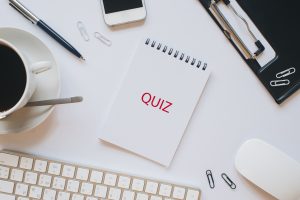 Cosmetic dental work may not address active oral health problems, but it can have a significant impact on a person's life. With the right procedure, you can make impressive changes to your appearance, which can boost your confidence, and make a valuable improvement to your quality of life. Your dentist is able to provide many different services to treat esthetic concerns. You have the option of making your teeth brighter with a professional teeth whitening treatment. If you want to cover up other flaws, porcelain veneers and Lumineers are able to give you a natural-looking improvement that adds serious value to your appearance. If you feel unsure about what you should do to make your goal of showing off a better smile a reality, you can schedule an appointment to discuss possible treatment solutions with your dentist.
Questions:
True Or False: You can cover up minor chips and cracks by having porcelain veneers placed.
True Or False: A professional whitening treatment can remove stains that accumulate from food, drinks, and tobacco products.
True Or False: Smart daily choices after your cosmetic treatment can help you keep your smile in great condition.
Answers:
True! Porcelain veneers can hide minor chips and cracks that make teeth appear uneven, and unhealthy. One thing you should know, however, is that damages that affect your oral health can require a dental crown, which can protect your tooth while also improving your smile.
True! Enamel stains can hurt the brightness of your smile. Fortunately, a professional whitening treatment can eliminate those stains, even if you have discoloring particles below the surface of your enamel.
True! If you want your results to last, make sure you take effective care of your smile after your cosmetic treatment.
Santa Monica Dental Arts Can Make Your Smile Better And Brighter
At Santa Monica Dental Arts, patients who want to improve how they look can be impressed by our commitment to fantastic cosmetic support. To learn more about how Dr. Koshki can help you, or to schedule an appointment to discuss cosmetic treatment, you can call Santa Monica Dental Arts in Santa Monica, CA today at 310-395-1261.