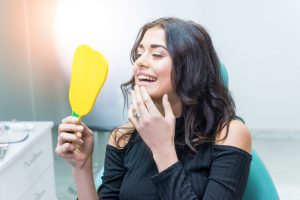 Your dentist can offer the type of restorative dental care that makes your smile feel fully protected, without sacrificing how you look. Of course, even when great restorative care is available, your goal should be to prevent dental problems altogether. When you maintain good oral health habits, you can protect yourself against tooth decay, and against gum disease, which can lead to tooth loss later in life. Make sure you keep your smile in great shape by brushing and flossing regularly – and by paying attention to your diet. You will have an easier time avoiding cavities if you avoid sugary items that tend to increase your risk for issues.
Regular Dental Visits Can Help With Your Cavity Defense
You can protect yourself by brushing your teeth at least two times every day, and by flossing at least one time each day. You can also protect yourself through limiting sugar in your diet. Your routine dental visits can protect your smile thanks to the routine cleaning you receive from your hygienist. This professional cleaning session can remove tartar, and generally exceed the degree of care you can provide at home. Your dentist can also warn you if you are exhibiting signs of decay that could become a cavity.
If You Think You Have An Oral Health Problem, Reach Out To Your Dentist
If you are concerned you might have a problem that needs your dentist's attention, let them know. Delaying treatment can allow a problem to worsen, which can mean more damage to your tooth, and more involved treatment. People who delay treatments are more likely to need root canals, or suffer advanced gum disease.
Preventive Dental Care With Dr. Koshki
You can enjoy superior preventive dental care when you rely on care from Dr. Koshki. By combining good habits at home with expert services, you can significantly limit the issues you experience. Of course, if you do develop a problem, you can count on Dr. Koshki and the team at Santa Monica Dental Arts to tend to the matter. To learn more about the services we offer, or to schedule a consultation with Dr. Moeiz Koshki, call Santa Monica Dental Arts in Santa Monica, CA today at 310-395-1261. You can also set up an appointment on our website by clicking here.