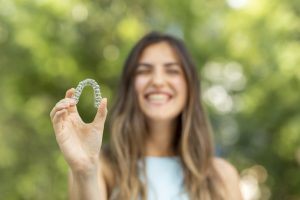 Problems with poor dental alignment can make it hard to feel confident in your smile. While cosmetic dental procedures are sometimes effective at hiding the effects of malocclusion, treatment often calls for some form of orthodontic work. Does this mean you will have to wear metal braces if you are ready to adjust teeth that overlap, or those that are too far apart? At our Santa Monica, CA dentist's office, we can talk with you about fixing your smile with Invisalign aligners. With Invisalign, patients have their teeth gradually moved by clear appliances that are removable. When fixing teeth that overlap, we can improve more than just your look – your adjustment can also benefit your oral health.
Clear Aligners Can Offer Discreet Orthodontic Work
People can feel self-conscious at the thought of wearing braces. This can be particularly true of adults who feel that they will make it difficult for them to look professional. If you want to do something about poorly aligned teeth, but do not wish to commit to metal braces, we can discuss the use of clear aligners. With appliances like Invisalign, it becomes possible to straighten an individual's smile while not calling attention to their choice to pursue orthodontic treatment.
Benefits To Fixing Problems With Overlapping Teeth
Teeth that overlap can be more prone to oral health issues over time. One reason for this is that misalignment affects the way a person applies force when they bite down. You can gradually wear down certain teeth because you are unknowingly putting more pressure on them throughout the day. Overlapping teeth also create problems because they can be difficult to clean effectively. As a result, you may have a more difficult preventing tartar buildup. If tartar is not removed during a routine preventive dental visit, it can lead to problems with decay and gum disease.
We Also Offer Treatment With ClearCorrect Aligners
For patients with relatively mild issues with malocclusion, we may be able to provide treatment with porcelain veneers. Veneers can cover teeth so that overlaps and gaps are no longer visible. We also offer more patient choice because we can provide treatment with ClearCorrect aligners in addition to Invisalign. During your appointment, we can help you find the right procedure and move forward with care that delivers exciting results!
Talk To Your Santa Monica, CA Dentist's Office About Invisalign
Our Santa Monica, CA dental practice has helped many patients fix problems that have made them uneasy about the way they looked. Issues like malocclusion, discoloration, dental damage, and more can be addressed discreetly, and in less time than you might expect! If you would like to learn more about our practice and services, please call Santa Monica Dental Arts today at 310-395-1261.