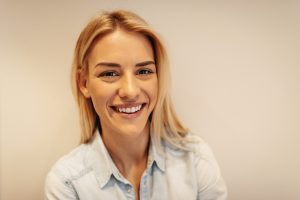 You used to love showing off your smile in photos, and you were always comfortable with how you looked in social gatherings…and then you chipped your tooth. A chipped tooth can result because you had the bad fortune to bite into something unexpectedly hard, or because of an injury. You could also wind up with damage if you have a habit of clenching your jaw. While there are many causes of dental damage, any incident that changes someone's smile for the worse can be decidedly unpleasant. Fortunately, you can count on our Santa Monica, CA dental office to provide the right cosmetic dental treatment to bring back the smile you used to love sharing with the world!
A Chipped Tooth Can Be A Noticeable Smile Flaw
A small chip that just happens to affect a visible tooth can lead to a big dip in your confidence. Even if you are not concerned about the tooth's health, this problem can be enough to send you to the dentist's office for support. It should be noted that if you hurt a tooth that is harder to see, you should have it looked at – you may be underestimating how much the damage may affect your oral health!
Using A Porcelain Veneer To Completely Restore A Tooth's Appearance
Custom porcelain veneers make it possible to hide conspicuous dental damages, and improve your appearance. During an initial appointment, your dentist will carefully measure your tooth in order to determine what the right size and shape of your veneer should be. Once this information is taken, the necessary details will be used to craft your restoration. The veneer that is used for your smile improvement will be durable enough to maintain its shape and overall appearance for many years. The bonding process can ensure that the veneer remains stable, even as you continue biting and chewing with the affected tooth.
A Dental Crown Can Help Support A Tooth That Is Vulnerable After An Injury
A dental injury may do more than just affect your appearance. You could be vulnerable to further harm, or have problems with proper biting and chewing. If this is the case, it may be necessary to provide restorative dental work instead of cosmetic treatment. Because our practice offers porcelain crowns to patients, we can make sure you still feel confident in your smile after treatment!
Talk To Dr. Koshki About Restoring Your Chipped Tooth, And Improving Your Smile
At Santa Monica Dental Arts, Dr. Koshki is proud to offer great cosmetic dental work to patients! A chipped tooth can be embarrassing and unsightly. To help you take care of it, we can recommend cosmetic treatment, or (if necessary) restoration with a dental crown. To arrange your visit with Dr. Moeiz Koshki, call Santa Monica Dental Arts in Santa Monica, CAtoday at 310-395-1261.