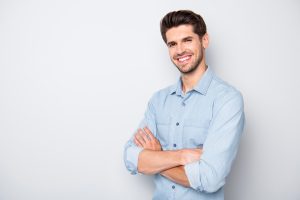 When people feel uncomfortable because their teeth are discolored, they often assume that a teeth whitening treatment can help. Many people do benefit from teeth whitening procedures. In fact, our office can help you show off notable improvements by clearing away stains in a single office visit. With that said, not everyone with discolored teeth has stains to worry about. Our Santa Monica, CA dental practice may recommend a different approach if your teeth are affected by enamel erosion, if you want to cover up issues with fluorosis, or if you have blemishes that formed after taking certain medications. Porcelain veneers can be effective at covering these forms of internal discoloration, just as they can help people who feel self-conscious about damaged or misshapen teeth.

Why Veneers Are Sometimes Recommended For Dental Discoloration
Without the right approach to smile care, it can be difficult to provide the right cosmetic improvements. When a person suffers from intrinsic discoloration – discoloration caused by problems with your tooth structure, and not stains – a teeth whitening procedure can be less effective at improving their color. As a response to this kind of discoloration, your dentist can provide veneers. Veneers cover the fronts of your teeth, so that blemishes and other flaws are no longer visible.
Arranging Cosmetic Care With Veneers
We provide veneers that have been crafted to produce your best smile improvements. Traditional veneers are slim, porcelain-made shells that imitate healthy enamel. As an alternative to these restorations, we also provide Lumineers, which are even slimmer. Your first appointment will involve preliminary work to plan and make space for your veneers. Once this is complete, and your veneers are ready, you can return to have them put in place.
Unsure Of How To Best Address Your Smile Problems? Schedule A Consultation!
During a consultation at our dental practice, you can learn more about the cosmetic procedures available to you, and what they might do to improve the way you look. This can be an opportunity to discuss intrinsic discoloration, as well as a chance to learn how veneers can make select smile corrections. You can also discuss treatment options like orthodontic work with clear braces, which provide a discreet means of improving the alignment of your teeth.
Dr. Koshki Can Help You Address Discolored Teeth!
At Santa Monica Dental Arts, Dr. Koshki is prepared to help you show off exciting smile improvements. For patients who have problems with intrinsic discoloration, and for those who want to correct multiple smile flaws, porcelain veneers can offer exciting changes. We can also address problems with the condition and alignment of your teeth with modern procedures. If you are ready to find out more, call Santa Monica Dental Arts in Santa Monica, CA today at 310-395-1261.