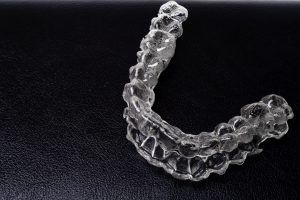 Your teeth may be healthy, and you may have no problems with their whiteness, but you can still be bothered by your smile. Many people who are concerned about their appearance may have issues with poor dental alignment. More than just a cosmetic dental concern, poorly aligned teeth can also raise your risk for cavity problems, and interfere with your bite function. Despite their discomfort with the way they look, people sometimes hesitate to pursue orthodontic treatment because they just feel uncomfortable with braces. Fortunately, your Santa Monica, CA dentist's office is prepared to help you by offering clear braces as an appearance-friendly alternative to traditional orthodontic appliances!
Improving Your Smile By Correcting Teeth That Are Misaligned
By fixing gaps, issues with teeth that overlap due to crowding, and any other problems with your alignment, you can make great changes to the way you look! With clear braces, your teeth are shifted with a sequence of aligners designed with see-through plastic material. You can choose between treatment with Invisalign, or you can talk to your dentist about using ClearCorrect braces. Both make the process of correcting your smile alignment discreet, and surprisingly easy to work into your daily life!
Using Modern Imaging Tools To Plan Your Custom Treatment
When you have cosmetic dental work done with clear braces, you can appreciate how this modern approach makes your overall adjustment easier, and more enjoyable! What you might not realize is that our practice uses a modern approach from the beginning of your treatment experience. We use an iTero digital scanner to plan your treatment, so you do not have to go through the unpleasant experience of creating a physical mold of your bite.
With The Right Cosmetic Procedure, Amazing Smile Changes Are Possible
Is your issue with your appearance rooted in the alignment of your teeth? For many people, an adjustment of crooked teeth can lead to fantastic smile changes. However, you may want to know more about your options for making your teeth brighter, or for hiding problems with the shape and health of certain teeth. We can talk to you about brightening your smile with professional whitening agents. We can also discuss making major cosmetic improvements with traditional porcelain veneers, or with slimmer Lumineers.
Talk To Dr. Koshki About Using Clear Braces To Improve Your Smile
At Santa Monica Dental Arts, you can look forward to a great experience when you want to undergo cosmetic dental work. Dr. Koshki offers considerable talent and knowledge when it comes to matters concerning your smile. You can look forward to amazing dental work, which can help you show off your best and brightest smile! To learn more about the services we can provide our patients with, call Santa Monica Dental Arts in Santa Monica, CA today at 310-395-1261.