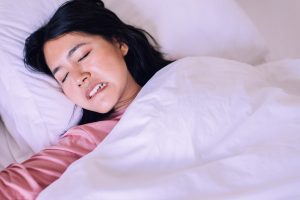 Your physical responses to stress can have surprising consequences. If you have a tendency to grind your teeth, stressful episodes can actually lead to an increased risk for dental wear and tear, as well as potential damage to your tooth enamel! While teeth grinding during the day can be a concern, your smile can be at greater risk if you grind your teeth at night. While proper stress management can help, any damage that has already occurred can be permanent. Our Santa Monica, CA dentist's office can address wear and tear that has affected your appearance. In a situation where a patient's teeth require more than cosmetic dental work, we can make arrangements to restore them with dental crowns.
Poorly Managed Stress Can Become A Big Issue For Your Smile
Teeth grinding can take a serious toll on your smile. With that said, this is only one of several issues with stress that can lead to problems with your oral health. Stress and anxiety can cause a person to experience dry mouth more regularly, which can make them more vulnerable to tooth decay. You may also unknowingly start to change your diet habits, or take less care of your teeth while brushing and flossing, due to feelings of distraction or fatigue related to your stress.
Addressing General Dental Wear And Tear
General wear and tear can start to give teeth an uneven appearance, or make them look less healthy than they really are. Through the placement of porcelain veneers, this issue can be addressed while still preserving your smile's natural look. Veneers are custom-made to fit securely, and they require less preparatory work than dental crowns.
Restoring Teeth That Are Chipped Or Cracked
If your teeth are chipped or cracked because of teeth grinding, the treatment process may call for more than just cosmetic restorations. Our practice can provide custom porcelain crowns in order to protect these teeth, and stop further damage from occurring. Care is taken to closely measure a vulnerable tooth and prepare it for its restoration. This work can ensure that your crown remains comfortable, and that it has the right look to fit in with your smile!
Your Santa Monica, CA Dentist Can Help You Deal With Damage From Teeth Grinding
In times of stress, a person's general and dental health can be adversely affected. If you have struggled with teeth grinding due to stress, you may be worried about visible wear and tear, or even the appearance of chips or cracks in your enamel. Our Santa Monica, CA dentist's office has experience working with individuals who have concerns about the condition and appearance of their teeth, and we can help you regain your confident smile. For more information, call Santa Monica Dental Arts at 310-395-1261.