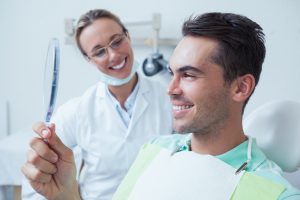 If gum disease is not properly managed, it can have serious consequences for more than just your smile. Poor periodontal health raises your risk for tooth loss, and an infection can also make you more likely to have difficulties with certain general health issues. In other words, this is not an issue that you should feel comfortable ignoring. At our Santa Monica, CA dentist's office, we can provide care to help you keep your gums in good health. If you have issues with your periodontal well-being that call for attention, you can meet with our on-site periodontist to discuss the management of your condition.
Gum Disease Can Have Serious Consequences
If you let trouble with gingivitis go untreated, your infection can become more serious over time. Eventually, this can turn into an issue with periodontal disease that will need more involved care to manage. Because we have a periodontist at our office who can work with you, we can help you start treatment for a more severe infection without a frustrating delay while you search for a specialist.
Meeting With Our On-Site Periodontist
By meeting with our on-site periodontist, you can learn more about the concerns around your periodontal disease as well as the treatments that we can provide to help. The services we provide to treat periodontal issues can utilize laser technology to make your care more comfortable, and to help you enjoy a faster recovery after a procedure.
Tooth loss is often an issue for those with poor gum health, and you may already need help with this concern. We can work out a treatment plan to prepare you for prosthetic work if necessary. We can also discuss restoring your full smile through implant dentistry.
How Consistent Care Helps You Prevent Gum Disease
By consistently scheduling and attending dental checkups, you will be able to heed early warnings about gum disease. You can also enjoy preventive care that makes you less likely to experience gingivitis and dental decay.
Our Santa Monica, CA Dentist's Office Can Help You Address Issues With Gum Disease
The right approach to smile care can sometimes call for advanced work to address periodontal problems. At Santa Monica Dental Arts, we can provide our patients with access to support from our on-site periodontist. By doing this, we can provide you with important information as well as more involved services that protect you from the potentially severe consequences of your infection. We offer this support in addition to a variety of restorative, cosmetic, and preventive treatments that can help you stay confident in your smile! To find out more about our practice and how we can help you, please contact our dentist's office in Santa Monica, CA today at 310-395-1261.