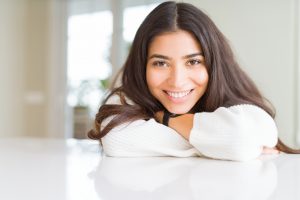 Is a dental injury going to mark the end of your smile as you once knew it? While our teeth are limited in how effectively they can recover from trauma, physical harm does not have to result in your smile being worse permanently. Thanks to modern cosmetic dental work, patients who have experienced problems with chipped or cracked teeth can have their appearance restored. At our Santa Monica, CA dental practice, we can cover up trauma with custom porcelain veneers, and Lumineers. We can also make sure that in addition to having its appearance improved, your tooth has proper functional support.
Visible Dental Injuries Can Be Embarrassing, And Hurt The Quality Of Your Smile
When you take good care of your smile, you can continue to enjoy showing off a set of bright, white teeth. This is part of what can make a dental injury so frustrating – despite all of your efforts to preserve your appearance, a single instance of bad luck can dramatically transform how you look. A single tooth that looks out of place because of a chip or crack can bring down the overall quality of your smile. Fortunately, lifelike restorations can be created that cover these problems.
Arranging The Appropriate Treatment To Restore The Look Of An Injured Tooth
When you arrange cosmetic dental work with your dentist, you can have traditional veneers put in place, or you can receive Lumineers. Lumineers are made from the same material, but they are even slimmer than the already remarkably thin veneers we also provide. To provide the best possible improvements, veneers always need to be customized for the tooth in need of improvement. Your dentist will work with you to make sure your treatment results in your injured tooth – and your smile – looking terrific.
Making Sure A Tooth Is Healthy After An Injury Occurs
Dental injuries can vary in their severity. For many people who wind up with a chipped or cracked tooth, a cosmetic procedure can be appropriate. However, you might require something with more functional support than a veneer. If this is the case, you can be happy to see how lifelike a porcelain dental crown can be! A crown can keep your tooth safe, while also improving your smile by hiding flaws.
Talk To Dr. Koshki About Restoring The Appearance And Health Of Your Injured Tooth!
If you wind up experiencing dental damage, Dr. Koshki is ready to help you! At Santa Monica Dental Arts, you can look forward to great cosmetic treatment to improve your smile. In addition to restoring dental injuries, we can address problems with dental discoloration, and congenital flaws that make you unhappy with how you look. To arrange your consultation with Dr. Moeiz Koshki, call Santa Monica Dental Arts in Santa Monica, CA today at 310-395-1261.