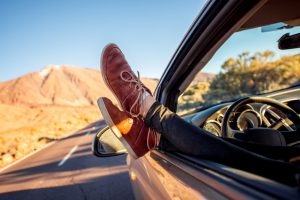 As the weather continues to warm, and we start moving closer to the Summer months, you may be planning some sort of adventure (or misadventure) on the open road. Road trips can make for great vacations, and great bonding experiences with friends and family. Unfortunately, those long trips may make it harder for you to prevent dental problems. If you want to make sure your smile stays in great condition out on the road, pay attention to the snacks you choose, and be sure to take time out to brush and floss effectively. Tartar, which has to be removed through a professional dental cleaning, needs relatively little time to form.
Maintaining Good Brushing And Flossing Habits While Traveling
You should brush your teeth at least twice a day, and floss at least once. Whenever you perform these tasks, put in the necessary care to make sure you are fully cleaning your teeth. It can be easy to slip out of regular habits when you are traveling, but these actions are important if you want to avoid needing restorative dental care down the line.
Snack Smart During Your Trip
The snacks you choose when you make rest stops can impact the condition of your teeth. A fondness for sticky, sugary treats can leave your teeth suffering more damage throughout the trip. Seeking out healthier snacks on the road can be of real value to your smile. You should also take care to stay hydrated while you travel. Water can help clear out debris from your mouth, and it can help prevent dry mouth, which can aggravate your cavity risk, from occurring.
Taking Good Care Of Your Smile, With Your Dentist's Help
You have real responsibilities when it comes to caring for your teeth. Maintaining good oral health habits between dental visits can ensure that when you do come in for a routine dental checkup, you walk out with a clean bill of health. Of course, those visits involve more than just an inspection of your teeth – you also receive detailed care during a dental cleaning, and an examination for issues like gum disease. At Santa Monica Dental Arts, conveniently located in Santa Monica, CA, Dr. Moeiz Koshki and our staff offer superior care for your smile. To set up an appointment with Dr. Koshki, call Santa Monica Dental Arts in Santa Monica, CA today at 310-395-1261, or contact us online through our website.