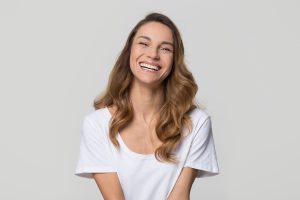 When it comes to gauging the quality of someone's smile, several features can capture our attention. You may focus on the color of their enamel, or the presence of absence of chips, cracks, or other signs of wear and tear. One important attribute is symmetry – generally speaking, people prefer smiles that are even. Teeth that are out of alignment can upset the symmetry of your smile, leading to a lack of confidence in the way you look. Fortunately, these problems can be dealt with through discreet orthodontic appliances like Invisalign and ClearCorrect! At our Santa Monica, CA dentist's office, we can make plans to improve the way you look by straightening teeth that are out of place!
Malocclusion Can Hurt Your Confidence And Your Dental Health
Even if your teeth are bright and problem-free, you can be unhappy with the way they look because they are poorly aligned. Malocclusion can make it hard to smile with confidence, as gaps and overlaps can throw off your facial symmetry and draw undesired attention. You should be aware that this problem does more than just hurt your confidence in the way you look. Misalignment also interferes with your bite function, which can lead to aches and pains, and may affect your risk for developing a teeth grinding problem.
Scheduling Treatment With Clear Aligners
Through the use of clear aligners, we will be able to gradually move your teeth into better positions. These aligners will be custom-made for you, with each serving as another step to your fully improved smile. Both Invisalign and ClearCorrect appliances are made with a clear plastic material that is difficult for people to see, so the process of straightening your teeth can minimize concerns about your appearance. This makes clear aligners a popular alternative to traditional metal braces that are difficult to ignore.
How Digital Imaging Technology Helps Us Deliver Exciting Results
With the digital imaging technology that we use in our office to measure teeth and oral structures, we can work out detailed plans for your smile correction. Our iTero digital scanner can be counted on to produce 3D images that are relied on to work out the full plans for your corrective work. You can be happy to know that by using it, we can remove the need for you to awkwardly bite into a plaster mold to take measurements of your teeth.
Talk To Your Santa Monica, CA Dentist About Using Clear Aligners To Fix Your Smile!
Our Santa Monica, CA dentist's office is prepared to help patients who want to do something about unattractive alignment issues. Treatment with clear aligners is one option out of several we have for improving patients' smiles. If you would like to learn more about our cosmetic services, please call Santa Monica Dental Arts today at 310-395-1261.