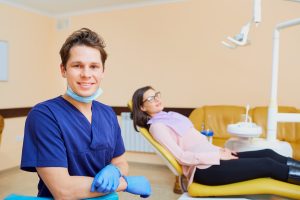 Your Santa Monica, CA dentist's office can provide you with real orthodontic improvements through clear braces. We offer support with Invisalign aligners, as well as with ClearCorrect. To make sure your custom aligners provide your ideal treatment experience, your dentist can now base their design off of information gathered from the iTero digital scanner. This digital scanning technology makes remarkably precise records of your bite, so that your treatment can be planned around more detailed information. Of course, you can also be happy to learn that you can plan your treatment without having to bite into an uncomfortable plaster mold! 
Providing A Modern Approach To Your Orthodontic Treatment
Orthodontic treatment using clear aligners can lead to remarkable smile improvements, while allowing patients to escape many frustrating qualities of traditional metal braces. Invisalign and ClearCorrect both use clear plastic material to create appliances. This means you can have your aligner in place, without worrying that your appearance is being impacted. Aligners also make it possible for you to remove your orthodontic appliance when it might be in the way – this can make eating and cleaning your teeth during treatment easier.
What Kind Of Expectations Should I Have For My Orthodontic Treatment?
You can look forward to real smile improvements when you have Invisalign treatment. These appliances can fix problems with poor dental alignment, including problems with spacing, and with overlaps. As a result of your correction, you can enjoy real cosmetic dental benefits. Of course, orthodontic work does more than just make your smile more attractive. You can also make it easier to defend your teeth from cavities, and you can avoid problems caused by a poorly aligned bite.
Santa Monica Dental Arts Uses Digital Scanning Technology To Plan Your Orthodontic Care
At Santa Monica Dental Arts, you can enjoy a modern orthodontic treatment experience when you have clear braces to fix alignment concerns. Your treatment can lead to real smile improvements, and benefits for your oral health! To learn more about the services we can provide our patients, or to schedule a consultation with Dr. Moeiz Koshki, call Santa Monica Dental Arts in Santa Monica, CA today at 310-395-1261.