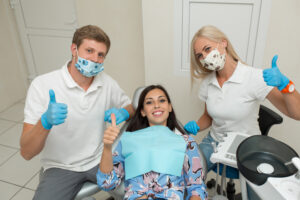 There are different factors at work when it comes to providing a positive treatment experience for patients. Our Santa Monica, CA dentist's office can take care to give you the right kind of support when you come in by offering a range of beneficial services, and by making those services as comfortable possible. Thanks to our use of laser technology, there are different tasks that we can make surprisingly comfortable. These tools can be particularly helpful when working with soft tissues. We can take on different cosmetic and health concerns that affect your gums, and we can also offer support if you want to do something about embarrassing cold sores!
Laser Technology Can Improve Patients' Experiences With Care
Through the use of laser technology, there are different kinds of oral health issues that we can take on in ways that make treatment experiences easier for patients. Lasers accomplish this by offering greater precision, limiting tissue damage, and even limiting any bleeding during services that modify soft tissues. This technology can also help with jaw pain and movement, as we can rely on it to ease tension in the joints and muscles that will contribute to TMJ disorder.
Using Laser Tools To Address Problems With Your Gums
Different issues with your gums can be effectively addressed through laser services. These tools can provide a better experience when you undergo care for gum disease. You can also have us improve your smile by using this technology to perform gum grafting services. In addition to providing more precise and comfortable care, our ability to limit tissue damage can ensure that your recovery is easier and shorter!
How We Use Lasers To Treat Cold Sores
Do you think about cold sores as something that your dentist can address? Laser care can help with them whenever they form. Treatment can destroy the virus responsible for their formation and eruption. With this care, we can speed up your recovery and also help you avoid future flare-ups in the same locations. By speeding up your recovery, we help you avoid embarrassment over the way you look and also make infections less likely to impact you.
Talk To Your Santa Monica, CA Dentist About Laser Treatments For Soft Tissue Lasers
There are different advantages to having laser tools on hand at our practice. They make it possible for us to provide a number of different treatments that will help you improve your health and appearance. They can make your time in the dentist's chair more comfortable, and they can offer shorter and easier recovery times. Whether you need to arrange services to take care of problems that affect soft tissues or you hope to address other matters, call Santa Monica Dental Arts in Santa Monica, CA today at 310-395-1261.