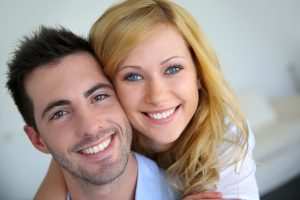 When you look at your smile, you may notice that the "small" issues affecting it lead to one big issue: an asymmetrical appearance. What can you do to address this concern? Symmetry can be an important feature, as an uneven smile can look awkward and less flattering. The good news is that this is a problem that cosmetic dentistry can address. With porcelain veneers, or with slimmer Lumineers, your Santa Monica, CA dentist can carefully change the shape, size, and color of teeth that make your smile look awkward. Restoring teeth in this way only calls for conservative changes to your tooth structure, but it can lead to long-term improvements that make you excited about your appearance!
"Minor" Flaws Can Create Frustrating Problems
Even if you only have minor issues with teeth that seem slightly too large or small, or "minor" wear and tear that affects tooth shape, you can feel an overall sense of dissatisfaction with your smile. Any issues that affect your facial symmetry can stand out in undesirable ways. The issues that make your smile appear uneven can feel more prominent than they are. This is why a problem that only requires a conservative cosmetic treatment can feel so difficult to ignore.
How Veneers Restore The Appearance Of Flawed Teeth
Porcelain veneers are thin restorations that are only placed on the fronts of teeth. Unlike dental crowns, which completely cover teeth, veneers only modify a portion of your enamel. With Lumineers, your dentist may be able to restore your smile without making any changes to your teeth! To ensure that they are the right shape and size to make desirable changes, veneers are carefully designed to fit your individual teeth. Once set in place, they will permanently remain to provide long-term smile improvements.
We Can Also Use Invisalign To Make Your Smile More Even
Sometimes, an asymmetrical smile calls for orthodontic treatment. By straightening teeth with Invisalign aligners, we can take on the problems that make your smile look uneven and unattractive. This approach is less conspicuous than treatment with metal braces. However, it is still capable of addressing concerns that you have about your appearance like noticeable gaps or overlaps between teeth. Invisalign treatment can also improve your bite function, which can be good for your overall oral health.
Talk To Your Santa Monica, CA Dentist About Veneers!
Our Santa Monica, CA dentist's office is ready to help patients who want to do something about dental flaws that make their smile appear asymmetrical. If you are someone who feels unhappy with the way you look because of an uneven or awkward smile, veneers can help! If you would like to learn more about this or any other cosmetic procedure, call Santa Monica Dental Arts at 310-395-1261.