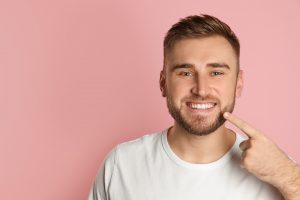 While dental enamel is a remarkably strong material, years of biting and chewing can cause wear and tear on our teeth. While some people may see little to no change to their appearance, your issues may be more pronounced, and they may cause you to feel concerned about the quality of your smile. Our Santa Monica, CA dental practice can provide cosmetic dental work to address this matter. You can gain back your confidence in the way you look when you have custom porcelain veneers or Lumineers placed on your teeth. In addition to hiding wear and tear, these restorations can make positive changes to misshapen or discolored teeth, and any teeth that are affected by chips or cracks.
How Does Wear And Tear Become A Problem?
The friction from biting and chewing food can have little to no effect on teeth on a day-to-day basis, but it can start to have an impact on the way you look over a long period of time. This can become an issue for people as they age, because their teeth may start to appear less healthy. Wear and tear can be a more significant issue if someone frequently grinds their teeth.
Crafting Custom Veneers To Improve Your Appearance
Veneers are designed to transform the look of a person's smile by making covering up any visible flaws. The veneers you receive will have their designs based on careful measurements of your teeth, which allow for customized restorations. Your dentist can also perform preliminary work to make space for veneers – because these restorations are so slim, little work is required. In some cases, Lumineers may be placed without preliminary work. Once it is confirmed that your veneers are the appropriate size, they are bonded to your teeth, which will result in your smile becoming whiter, more uniform, and free of visible flaws!
Can Serious Wear And Tear Affect Your Oral Health?
If serious wear and tear has become an issue, some of your teeth may need more support than veneers are naturally designed to offer. Restorative dental work in the form of custom dental crowns can do an effective job of protecting these teeth, and they can also provide cosmetic improvement. This is due to the remarkably lifelike porcelain used to craft these custom crowns.
Discuss Veneer Placement At Santa Monica Dental Arts
At Santa Monica Dental Arts, patients are able to enjoy fantastic cosmetic and restorative dental work! If your smile is starting to show signs of problems because of wear and tear, we can determine the appropriate course of action, and offer relief from this issue with custom restorations. For more information, or to set up a consultation, call Santa Monica Dental Arts in Santa Monica, CA today at 310-395-1261.