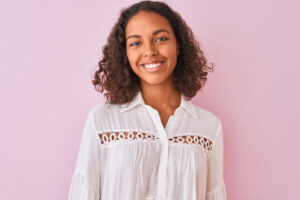 While some people who look into cosmetic dentistry have one specific change they want to make, others will look into treatment because they want to make several improvements. You may assume that because you have more than one kind of problem to address, you will need to arrange several procedures. What you can find is that our Santa Monica, CA dentist's office can transform the way your teeth look by restoring them with porcelain veneers! By placing veneers on problem teeth, we can correct a range of issues, including problems like discoloration, dental damage, poor alignment, and more.
How Happy Are You With Your Smile Right Now?
Do you feel ready to smile for a picture at this moment? When you go out with friends or enter an important professional setting, do you worry that people are paying negative attention to your teeth? Whether you have one change you want to make or several, it can be frustrating to go without the cosmetic work that you desire. Fortunately, there are ways to take on the issues that hold people back from feeling like their most confident selves. With both traditional veneers and Lumineers, we can help you enjoy striking and long-lasting changes!
We Offer Different Types Of Veneers To Our Patients
We provide both traditional porcelain veneers and slimmer Lumineers to our patients. Both are made to last, with the porcelain material used to construct them offering coverage that you can count on for many years. Lumineers are a slimmer type of veneer, which we can use to minimize preparatory work while still providing quality results. We can talk to you about the relative benefits of both based on your treatment goals and the current state of your smile.
Exploring Alternative Cosmetic Dental Treatments
While veneers are often effective at giving people the smile improvements they want, they are not your only option for care. For example, we provide clear aligners to gradually reposition and realign teeth that are poorly spaced. We can also talk to you about treatment with dental crowns when your have teeth that have cosmetic as well as functional problems.
Talk To Your Santa Monica, CA Dental Office About Transforming Your Smile With Veneers
Treatment with dental veneers can help you take on the flaws that make you feel less than satisfied by your smile. We offer two types of these restorations, which help patients move past issues like discoloration, dental damage, poor spacing, and more. Cosmetic dentistry is one of many ways we can help our patients, as we also provide a range of restorative and preventive solutions. If you would like to learn more or set up an appointment, call Santa Monica Dental Arts in Santa Monica, CA at (310)395-1261!