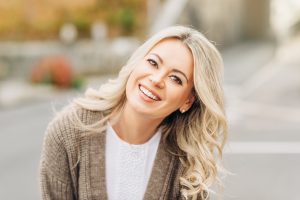 Your perceived age can be affected by many factors. While people often fret over the development of wrinkles, or the appearance of gray hairs, the condition of your smile is also something that can change how old you look. Fortunately, with the right cosmetic dental procedure, you can resolve problems with your teeth that cause people to see you as older than you really are. At our Santa Monica, CA dentist's office, we are prepared to help you make corrections that give you a more youthful smile. This can be as straightforward as addressing teeth stains that have accumulated over the years, or improvements can be made by restoring teeth that appear worn or misshapen.
Discoloration And Dental Wear Can Hurt Your Perceived Age
Your teeth can start to show the effects of age over time in more than one way. While some teeth stains can be hard to avoid, an accumulation of too many stains can lead to your teeth appearing dull and unhealthy. You can also experience problems because of enamel erosion, which can begin letting more of your dentin show. This can have the effect of dulling your smile, but a teeth whitening procedure can be less effective at addressing the matter. Wear and tear can also be a problem because your teeth may start to appear misshapen, dull, or even damaged over time.
Restoring The Color Of My Smile
If teeth stains have gathered on your teeth, a professional whitening procedure can be an effective solution. We can bring you in for a single office visit, which can be completed in as little as one hour, to address tough teeth stains that can persist despite the use of store bought whitening agents. By trusting teeth whitening treatment to your dentist, you can see your smile become many shades brighter, which can impact its perceived health and general attractiveness.
Addressing Different Dental Flaws With Veneers
If dental damages and wear and tear have started to hurt your teeth, porcelain veneers can help. Veneers are custom-made to cover teeth so that problems with damage, wear and tear, and discoloration can be addressed. These restorations are also effective against naturally occurring problems that might have affected the shape or alignment of certain teeth. To minimize the changes ot your tooth structure, we can recommend Lumineers, a thinner alternative to already-thin conventional veneers.
Our Santa Monica, CA Dental Office Can Offer Impressive Cosmetic Dental Improvements
At Santa Monica Dental Arts, Dr. Koshki is ready to help you show off a smile that looks healthier and younger! Our practice offers multiple approaches to cosmetic dental care that can help you see exciting results in less time than you might expect. To find out more, call Santa Monica Dental Arts in Santa Monica, CA today at 310-395-1261.