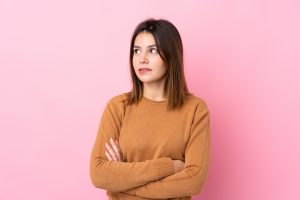 While some dental injuries can certainly be more severe than others, even a relatively minor problem with a tooth should be taken seriously. Letting a chipped or cracked tooth go untreated can lead to problems later if the tooth is damaged further, or if you start to experience problems with an infection. Our Santa Monica, CA dentist's office can provide an evaluation to determine how serious the problem might be before recommending treatment. Superficial injuries can be restored through cosmetic dental procedures that preserve more of your healthy tooth structure. If there are concerns about a tooth's condition, a porcelain dental crown can be used to protect it.
Even A Minor Tooth Injury Can Have A Negative Impact On Your Smile
Minor injuries that affect your smile can make you self-conscious about the way you look, and uncomfortable with both speaking and smiling. The impact on your confidence can be hard to recover from – fortunately a conservative cosmetic treatment can provide relief. While cosmetic procedures are not able to address infections or structural damage, they can restore the symmetry and overall attractiveness of your smile. Porcelain veneers and Lumineers can be used to cover up chips and cracks while still preserving most of your enamel.
Has Dental Damage Affected Your Ability To Bite And Chew?
An injury that affects your ability to bite and chew comfortably is not one that you should ignore. Changes in your bite can increase pressure on your jaw, leading to chronic pain and stiffness. Changes can also lead to more wear and tear on your teeth, which can result in new problems. With a custom dental crown, you can feel more confident in your bite because you will be able to rely on a previously vulnerable tooth for support.
The Right Treatment Can Provide Lasting Improvements
Dental crowns and veneers are made from materials that can hold up against continuous biting and chewing pressures. These restorations can offer support for many years, effectively serving as permanent answers to problems created by physical trauma. Your dentist can check on their condition during routine dental exams to make sure that there are not any issues with them.
Your Santa Monica, CA Dentist Can Address Problems With Injured Teeth
At our Santa Monica, CA dentist's office, Dr. Koshki has experience restoring the smiles of patients who have experienced dental damage. After an evaluation, we can determine if you might require restorative dental work, or if cosmetic work can be performed to address a problem with a chipped or cracked tooth. We have experience dealing with a range of cosmetic and oral health issues, and we can provide a safe atmosphere to address your dental needs. For more information, call Santa Monica Dental Arts at 310-395-1261.