WHY IS DR. KOSHKI RECOMMENDING IMPLANTS TO ME?
(I am fine with a removable partial or full denture.)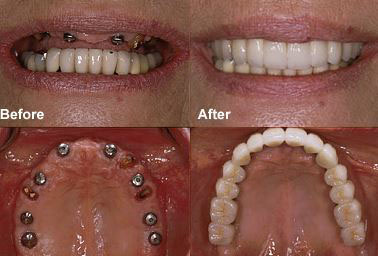 The advantages and disadvantages of complete dentures, removable partial dentures, and fixed partial dentures (bridges) are well well-documented.  The most widely accepted advantage of complete or partial dentures is cost effectiveness.  While the disadvantages include (but are not limited to):
Poor retention and stability.
Aesthetic limitations.
Speech difficulty.
Poor facial and lip support.
Premature aging.
Accelerated bone loss.
Avoidable damage to otherwise healthy adjacent teeth.
Difficulty with cleaning and home care.
Substantially limited chewing efficiency compared to natural teeth.
Only tooth replacement therapy with implant (s) can essentially nullify all of the aforementioned disadvantages, resulting in predictable and beautiful tooth restorations.
Dr. Koshki is happy to offer a no-obligation consultation to discuss how implants can provide the ultimate in tooth restoration.