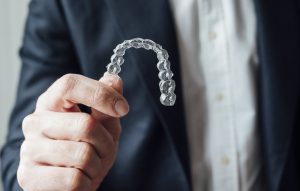 Before we can begin treatment to fix problems with your smile alignment, it is necessary to carefully measure your teeth and oral structures. By doing so, we are able to plan out your adjustment, and we can ensure that the aligners you receive will fit your teeth. At our Santa Monica, CA dentist's office, we actually rely on digital scanning technology to take measurements. In addition to providing a more comfortable experience for patients, the digital scanning process can yield highly detailed measurements to help us prepare your adjustment with Invisalign or ClearCorrect aligners.
Digital Scans Help Us Plan Your Personalized Treatment
It is important that we take time to personalize your orthodontic treatment. After all, the issues that affect the alignment of your smile can differ from problems that affect someone else's. With the iTero digital scanner, we can take the necessary measurements for preparing your procedure and designing your custom aligners while minimizing your discomfort. These scans provide an impressive degree of detail. Once they are acquired, they allow us to work out the necessary size and shape of your aligners as well as the planned movement of your teeth.
What To Expect From Your Custom Aligners
Whether you move forward with Invisalign treatment, or an adjustment with ClearCorrect aligners, you can count on your orthodontic work to be discreet. The series of aligners provided to you will be made form clear plastic material that can be difficult for others to notice. While it is important to keep them on throughout the day, you should know that they can be removed whenever you need to clean your teeth or eat, making them less intrusive.
We May Be Able To Offer An Alternative To Orthodontic Treatment For Some Alignment Flaws
Is it always necessary to correct smile alignment flaws with orthodontic work? Relatively minor spacing issues may be fixable with porcelain veneers. These restorations will be carefully shaped and sized to hide the presence of gaps or overlaps between teeth, allowing us to fix your flaws without a prolonged adjustment process. This can be exciting for patients who want to see results as soon as possible. Veneers can also help you hide damage, improve the color of your teeth, and deal with other flaws that have made you self-conscious.
Talk To Santa Monica Dental Arts About Orthodontic Work With Clear Aligners
Santa Monica Dental Arts has helped many people take on the flaws that have left them self-conscious about the way they look. Thanks to our digital scanner and different options for orthodontic treatment, we can help you move past issues with the alignment of your smile that have left you unhappy. If you would like to find out more, please call our dental office in Santa Monica, CA today at 310-395-1261.