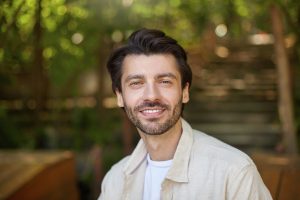 If your smile is not as bright as it used to be, or if you have always lacked confidence in the color of your teeth, you can have doubts about your overall appearance that are difficult to shake. Those who attempt to fight discoloration with store bought whitening products only can come away feeling defeated, as these products may lead to only limited changes. Our Santa Monica, CA dentist's office can help you if you feel unhappy with the color of your smile at this point. We offer more than one cosmetic dental procedure that can make your smile brighter. For those bothered by teeth stains, we can use a professional whitening treatment to make positive changes. Individuals who have discoloration that stems from other problems can benefit from the placement of porcelain veneers.
Do You Try To Hide Your Discolored Teeth From Others When You Smile And Speak?
Dental discoloration can affect a person's smile even if their teeth are in good health. It can be a particularly tough problem to avoid for individuals who have used tobacco products, but many foods and drinks can cause discoloration to occur. Rather than continue hiding your teeth when you smile and speak, look into treatment – you may be surprised at just how effective a professional treatment can be at resolving your smile concerns!
Discussing Professional Teeth Whitening Treatment
Our whitening services remove stubborn stains that you have picked up over time. While store bought whitening agents are often less than effective at removing deeper or tougher stains, we rely on stronger bleaching agents that can safely deal with more difficult discoloration. Within an hour, your in-office treatment can give you a bright, confident smile you are eager to share with the world! In addition to whitening teeth in the office, we give patients custom whitening kits that they can take home after their procedure to use at a later date if they notice new stains affecting the way they look.
Why We Might Recommend Veneers As A Treatment For Discoloration
Why are some patients told to look at alternatives to whitening treatment for dental discoloration? For some, discoloration actually occurs because of internal problems with your tooth structure that hurt the way you look. By using veneers to hide these flaws, we can brighten your teeth and also hide problems with shape and size that have hurt your appearance.
Talk To Your Santa Monica, CA Dentist About Making Your Smile Whiter
Is it time for you to do something about dental discoloration? If you are fed up with your feelings of self-consciousness about your smile, talk to your Santa Monica, CA dentist about whitening treatment! To learn about this and other cosmetic services that we provide, call Santa Monica Dental Arts in Santa Monica, CA today at 310-395-1261.