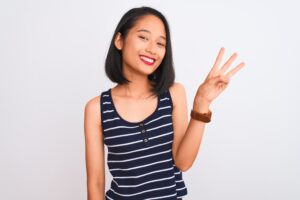 How will your dentist approach your smile care? For several issues, our Santa Monica, CA dental practice can actually improve your treatment experience by using laser technology! Doing so means offering treatments that are advanced as well as less invasive, making your experience more comfortable. This technology can be used to provide a surprising range of care. From cold sore treatments to work that improves bite health, we can help you take on issues that have affected your quality of life and well-being in the past. To provide further support, we also rely on advanced restorations that closely imitate healthy enamel to take care of teeth while helping you preserve a quality smile.
1. We Can Use Laser Technology To Address Periodontal Concerns
The onset of gum disease is not a matter to take lightly. As time passes, an infection that is not properly treated will worsen and create more problems for you, something that can result in a higher risk for tooth loss as well as problems with your general well-being. We provide the support of a dedicated on-site periodontist for patients who struggle with advanced gum disease. With laser technology, we can make work on your tissues more comfortable. This also lets us perform cosmetic services that treat the gums while providing better patient experiences.
2. Lasers Can Address The Formation Of Cold Sores
When cold sores form, they can create prolonged periods of embarrassment, concerns about discomfort, and health risks. By coming in for treatment to address their formation, you can have the microbes responsible for their formation treated with tools that make work on your soft tissues surprisingly comfortable. In addition to preventing eruption and shortening your time with a sore, this can lower your odds of having a new sore form in the same area.
3. Relying On Laser Technology To Address Poor Jaw Movement
If you have trouble with jaw pain and stiffness, lasers can actually help to soothe the joints and muscles to help improve your well-being. By treating TMJ disorder in this way, we can offer a surprisingly comfortable and non-invasive form of care that helps you bite, chew, and speak without the kind of discomfort that you have felt due to your condition.
Talk To Your Santa Monica, CA Dentist About Laser Treatment!
There are different ways in which our practice can help you have a better experience with smile care. In addition to providing services that improve your appearance and dental health with quality restorations, we can use lasers to take on different worries over your health while making you more comfortable. If you would like to learn more about these tools and these services, please call Santa Monica Dental Arts in Santa Monica, CA today at 310-395-1261.