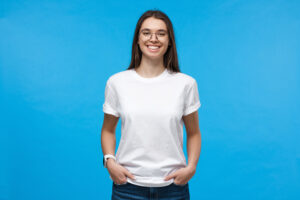 One of the most common dental concerns is smile alignment. Where your teeth rest on your oral ridge can have serious cosmetic and medical implications. Firstly, a smile with crooked teeth and gaps can pose as an unnecessary roadblock in your social and professional life. If there is an available solution to improve your look, why wait in seeking treatment?
Secondly, misalignment can lead to major dental concerns, particularly in the development of troublesome bacterial buildup. When the teeth overlap or crowd, they form areas that are difficult or practically impossible for you to clean. These tiny microorganisms produce acidic waste that leads to the loss of the durable outer surface of the tooth. Maximize your ability to keep your existing teeth safe from bacterial infection by placing them in their proper location in your mouth. We proudly offer Invisalign® therapy at Santa Monica Dental Arts in Santa Monica, CA to help you improve your look. These slim aligners are nearly invisible and can revive your dental wellbeing!
How Misalignment Affects Your Health As Well As Your Beauty
Alignment issues are a common cosmetic concern, as a crooked tooth or a noticeable gap might be holding you back. Did you know that this condition could also be placing your teeth at risk of additional damage? Tooth decay is a common concern in mouths that suffer from misalignment, so do not ignore your problem.
In areas where crowding is present, bacteria begin to build where you cannot thoroughly brush them away. This means an increase in enamel decay from the acidic waste that these germs produce. You might also have difficulty seeing the development of a worrisome cavity. Care for your smile and prevent this situation from progressing further. You may require a filling to repair your enamel if a cavity has begun to form.
How Clear Aligners Gently Shift Your Smile Into Focus
Invisalign® treatment could help you to restore your dental health and keep your smile strong. These work through the application of nearly invisible clear aligner trays. You wear these throughout the day, removing them to eat and perform routine oral hygiene. After brushing and flossing, these remain in your mouth even while you sleep. You will progressively change these trays as your alignment reaches closer to your goal!
Improve Your Smile With Invisalign® In Santa Monica, CA
Smile misalignment can be a hindrance in your appearance and place an unnecessary roadblock in your development in life. First impressions rely heavily upon our smile, so care for your alignment with a simple solution with Invisalign® trays that are nearly invisible. Call Santa Monica Dental Arts in Santa Monica, CA at 310-395-1261 to learn more about how we work to improve oral health while giving you a more gorgeous smile!