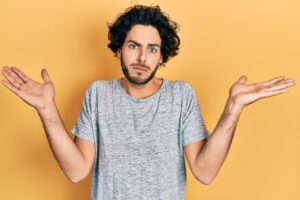 The idea of cosmetic dentistry can seem appealing, but it may be hard to commit when you believe the work you need will require serious time and/or effort. What can you do if you want to improve your smile but feel uneasy about a more involved procedure? At our Santa Monica, CA dental office, we can provide information on conservative solutions to problems with the way you look. One option is to receive Lumineers, which are slimmer than traditional veneers and reduce the preparatory work required to improve your smile. Another option is treatment with clear aligners; for patients who are unhappy with the alignment of their teeth, this can be a welcome alternative to metal braces!
Are You Intimidated By What Cosmetic Dentistry Might Require?
Cosmetic dental work can take on different flaws in different ways. People who are embarrassed by the color of their enamel can feel comfortable inquiring about teeth whitening treatment. However, if you want to do something about the shape, size, or spacing of your teeth, you can find cosmetic treatment less inviting. We want patients to know that conservative solutions to different issues are available. The right procedure can bring you closer to your ideal appearance than you think possible!
Learn About The Positive Impact Of Lumineers!
Lumineers provide a slender alternative to treatment with traditional porcelain veneers. Because this is an option, we can reduce the amount of preparatory work that goes into a procedure to restore teeth that are misshapen, damaged, or otherwise flawed. Like traditional veneers, Lumineers are made with porcelain, making them strong enough to withstand friction from biting and chewing for many years. They can provide long-term changes that you are eager to show off, and they can be preserved with the right oral hygiene efforts and routine checkups.
Enjoy A Less Conspicuous Approach To Straightening Teeth
For patients who want to find a more conservative solution for straightening uneven teeth, we can recommend care with clear aligners. Starting with your review using our iTero digital scanner, we can make the process of moving teeth into alignment a more pleasant and comfortable one. In addition to being hard for others to see, your appliances will be easy to remove, making it easier for you to keep up with your typical daily routine.
Talk To Your Santa Monica, CA Dentist's Office About Conservative Cosmetic Care!
Through conservative smile care at our dental practice, patients who have been uneasy about cosmetic work can see remarkable and lasting improvements to the way they look! We can talk to you about your goals and concerns about treatment before recommending a specific procedure. If you would like to find out more, call Santa Monica Dental Arts in Santa Monica, CA today at 310-395-1261.