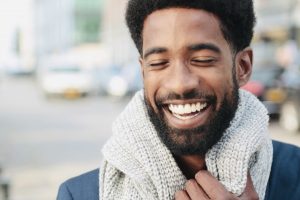 Whether the problem occurs over a longer period of time as you age, or it becomes an issue because you have a tendency to grind your teeth, dental wear and tear can become a real cosmetic problem. What can you do to effectively restore teeth and improve the way you look? At our Santa Monica, CA dentist's office, we can use porcelain veneers to revitalize a smile that looks worn, misshapen, or otherwise flawed. These thin, durable shells are capable of making lasting improvements that give you renewed confidence in the way you look.
Gradual Wear And Tear Can Hurt Your Appearance
Wear and tear can affect people to different degrees. Because our teeth endure wear and tear from biting and chewing on a daily basis, it can be difficult to avoid some changes. However, if they occur at an earlier age, or if they are more pronounced, it can make you self-conscious. Fortunately, a cosmetic dental procedure can address this issue for you. At the end of your procedure, you can show off a smile that is brighter, more uniform, and more youthful!
Proceeding With Treatment To Restore Your Smile
We can take care to closely measure your teeth and determine what shape and size your porcelain veneers should be to provide the best possible results. In addition to taking these measurements, we will provide minor preparatory work to make space for your restorations. One way to minimize (or even avoid) this work is to receive Lumineers, a thinner alternative to standard veneers. At your subsequent appointment, your dentist will confirm that your restorations are ready to be put in place!
Why Your Dental Damage Might Call For Treatment With Dental Crowns
Sometimes, the damage from dental wear and tear is serious enough to affect your bite function. For a problem like this, or in a situation where dental damage has left you with an unhealthy tooth, we can make plans to provide treatment with porcelain crowns. These crowns, like veneers, are made with a porcelain substance that can effectively improve your smile. However, crowns offer more functional support, which can lead to better health and bite strength.
Talk To Your Santa Monica, CA Dentist About Cosmetic Work For Dental Wear And Tear
With the right cosmetic dental procedure, you can leave concerns about dental wear and tear behind! Porcelain veneers can change the shape, size, and color of teeth, which can produce dramatic results that are long-lasting. This is one of many procedures we can offer to patients worried about their oral health and appearance. If you want to discuss veneers, or if there are any other procedures of interest to you, please call Santa Monica Dental Arts in Santa Monica, CA today at 310-395-1261.