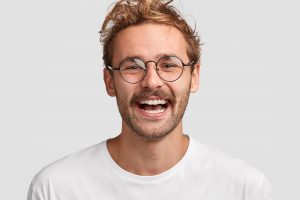 Your lack of confidence in your smile can be hard to hide, even if you have a relatively easy time hiding the flaws that make you self-conscious about the way you look. If you are tired of living with these feelings of self-doubt, or if you have started to develop issues with the way you look, asking about cosmetic dental work can help. When you discuss cosmetic treatment at our Santa Monica, CA dentist's office, you can learn how the right procedure is capable of targeting your specific concerns to improve your sense of well-being about your appearance. We can help you make exciting changes with traditional porcelain veneers, but we can also discuss the use of Lumineers, a slimmer alternative to these restorations.
How Do You Currently Feel About Your Smile?
Do you feel comfortable with the way you look when you smile, or do you have concerns that your teeth make you look older, less healthy, or generally less attractive? As we age, it can be increasingly difficult to avoid difficulties with enamel wear and tear, stains, and other concerns. Because of this, even someone who has long been comfortable with their appearance can start to develop some concerns. We can discuss the benefits of cosmetic treatment with you – with veneers we can even take on several problems at once, which can shorten the time it takes you to see your ideal results.
Targeting Smile Flaws With Veneers
Both porcelain veneers and Lumineers are effective at addressing problems that a patient might have with the shape, size, and color of their teeth. While both are made from porcelain, Lumineers differ because they are slimmer, which reduces the amount of preparatory work that you might need as part of your treatment. These restorations make their desirable changes by carefully covering the front surfaces of your teeth to hide flaws. Because they can provide effective coverage while only fitting over a limited portion of your enamel, they offer a surprisingly conservative solution to smile flaws.
Talk To Your Dentist About All Of Your Treatment Options
For many people, discoloration is a primary concern. In this case, we can help you by providing a professional teeth whitening procedure to deal with them. If you are someone who feels unhappy with the way they look because their teeth are not properly aligned, we can discuss the positive impact that clear braces can have on your appearance.
Our Santa Monica, CA Dentist's Office Offers Treatment With Veneers
Through treatment with traditional porcelain veneers or Lumineers, we can help patients deal with the flaws that have made them self-conscious about the way they look. To find out more about our services, call Santa Monica Dental Arts in Santa Monica, CA today at 310-395-1261.