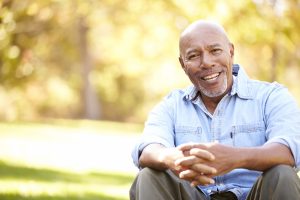 At our Santa Monica, CA dentist's office, we can take care of issues that cause significant concerns for your smile and oral health. Tooth loss is one of those issues that we can help you take on. By meeting with you to discuss the benefits of implant dentistry, we can start you on a path toward regaining your full smile! Our practice can work with you to make sure you qualify for this procedure. If existing issues, like poor periodontal health, interfere with your candidacy, we can start plans to perform the appropriate services to restore the health of your gums and move forward with your restorative treatment!
How Gum Disease Makes You Vulnerable To Tooth Loss
Many people who lose teeth do so because of difficulties that concern their periodontal health. Advanced gum disease can lead to the destruction of the tissues that keep your teeth in position. Over time, that damage can loosen them and make their extraction necessary. If unresolved periodontal problems still affect you as you start plans to restore your full smile with the aid of dental implants, we can discuss treatment that can approve you for your treatment.
Addressing Periodontal Problems
You can meet with a periodontist at our office and discuss your current difficulties with poor gum health. By identifying the trouble and recommending the right treatment, we can help you qualify for prosthetic work with dental implants. Our office relies on laser technology to perform many periodontal services. This technology can lead to faster and easier recovery times, and it can make your care more precise. Because of that precision, we can more effectively leave healthy surrounding tissues untouched.
The Long-Term Benefits Of Fully Restoring Your Smile
Through work to fully restore your smile and periodontal health, we can give you renewed confidence in your smile. Implant dentistry leads to more than just the restoration of your appearance. The implants hold restorations so securely that you can count on them to provide bite support. You can enjoy a broader diet and enjoy more nutrient-rich meals. You can also create stimulation in your jaw that protects you against the deterioration of the bone!
Your Santa Monica, CA Dentist's Office Can Help You Regain Your Full Smile!
At Santa Monica Dental Arts, we are prepared to help patients who wish to restore an incomplete smile. While dental implants provide many benefits for a person interested in prosthetic treatment, it can be difficult for some patients to move forward with care because of unresolved periodontal problems. Our on-site periodontist can recommend treatment to address these issues and help you move forward with plans to fully restore your smile and bite function! To find out more about how we can help you, please reach out to our dentist's office in Santa Monica, CA today at 310-395-1261.