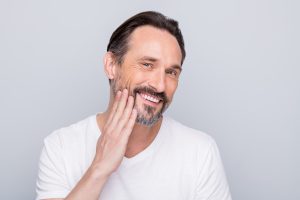 There are more problems to worry about than dental decay if you want to effectively manage your oral health. People sometimes overlook the importance of keeping their gums healthy. Unfortunately, this can mean ignoring signs of a potentially serious infection, one that can raise their risk for tooth loss and make them more susceptible to general health problems! Your Santa Monica, CA dentist's office is here to help you protect yourself. In addition to providing services that lower your risk for gingivitis, we can take care of you if you already have a more severe infection. Our on-site periodontist can provide laser services that manage your condition and keep you safe from potential difficulties.
Gum Disease Can Be More Harmful Than You Realize
How much do you really need to worry about gum disease? If you think that gingivitis is all you have to worry about, you should know that the problem can become more serious when it is not managed. Gingivitis is reversible, but if the problem is not caught in time it will worsen. As time passes, bacteria can continue to spread and infect your periodontal tissues. This can make the condition difficult to manage, result in tissue damage that leads to tooth loss, and even raise your risk for general health issues!
The Benefits Of Laser Periodontal Services
One benefit to visiting our office to discuss your periodontal health is that you can learn about beneficial laser treatments. Laser tools allow us to more carefully modify soft tissues so that we can clear away bacteria and diseased gums. We can do necessary work while preserving more of your healthy tissues, limiting bleeding, and making your recovery shorter and easier. We can perform work to close harmful periodontal pockets, and we can provide cleanings that control the spread of bacteria and even help you fully recover from gingivitis.
Other Advanced Services Our Practice Can Provide
With the right treatments and technology, we can help you manage potentially serious dental issues. For someone who has already lost teeth because of periodontal disease, we can start plans to restore your full smile with the support of dental implants. We also provide modern, attractive restorations like porcelain crowns to preserve your appearance as we protect teeth.
Your Santa Monica, CA Dentist's Office Can Help You Manage Serious Gum Disease
Advanced problems with gum disease are not something you want to ignore! If you need help controlling an infection, or if you hope to stop gingivitis before you have complications to manage, we can help. To learn more about our different services, including our treatments that rely on laser technology, please call Santa Monica Dental Arts in Santa Monica, CA today at 310-395-1261.