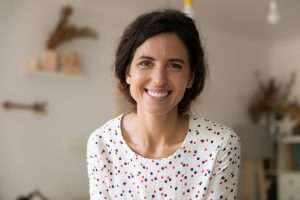 When you imagine the smile you really want to show to the world, do you feel as though your ideal appearance might be out of reach? People who assume cosmetic dental services can only make limited changes may talk their way out of beneficial treatment without ever realizing it! By talking to your Santa Monica, CA dentist about the effect a single procedure can have, you can discover that your goals for smile improvement are closer than you thought possible! One procedure to restore your smile with porcelain veneers can improve the way you look by addressing discoloration, problems with the condition of your smile, and even issues with spacing between teeth.
Cosmetic Treatment Can Do More For You Than You May Expect
When you start to look into the benefits of cosmetic dental work, you can find that a single procedure is more effective at making big changes than you initially assumed. Our practice can recommend treatment with porcelain veneers – or with slimmer Lumineers – to take care of discoloration, damage, or even naturally occurring issues with tooth shape and size. When your restorations are in place, you can marvel at your brighter, more uniform smile, and enjoy the effect it has on your overall appearance.
Arranging Treatment With Porcelain Veneers Or Lumineers
Porcelain veneers and Lumineers are slim restorations that cover the front surfaces of teeth when put in place. They are carefully designed to fit without making your smile look unnatural, and they can address multiple issues at one time. To provide the right results, your dentist will need to carefully measure the teeth you wish to restore and do minor preparatory work to make space for your restorations. The process of bonding them to your enamel is permanent, and will give you long-term improvements to show off.
Other Services That Can Improve Your Smile
Many people who wish to change their appearance can express concerns about the alignment of their smile. Teeth that are too far apart, teeth that are pushed back or stand at odd angles due to a lack of space, and other issues are treatable with Invisalign aligners. For those who feel that their smile looks less attractive because they have a hard time fighting the buildup of teeth stains, we can provide a professional whitening treatment that delivers noteworthy improvements.
Talk To Your Santa Monica, CA Dentist About Your Smile Improvement Goals!
If you feel that you might have a hard time attaining your smile improvement goals, talk to Santa Monica Dental Arts about the benefits of treatment with veneers! The right cosmetic procedure can help you revitalize your appearance, put longstanding concerns behind you, and generally enjoy a big confidence boost. For more information, please reach out to our dentist's office in Santa Monica, CA today at 310-395-1261.