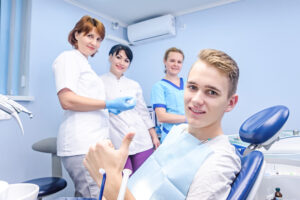 Do you find yourself embarrassed by the formation and eruption of cold sores? The virus that causes these sores to form can create continued problems with flare-ups that make you self-conscious. Fortunately, there is something that your Santa Monica, CA dentist can do to help you! With our laser technology, we are able to target the bacteria that are responsible for these sores to speed up recovery and prevent complications. Laser tools help our practice take on several different concerns, and they can generally make dental services more comfortable for patients.
We Understand That Cold Sores Can Be Embarrassing
It can be hard to go about your daily routine when you have issues with cold sores. They can be uncomfortable as well as embarrassing, and more problems can occur when you develop an infection with an erupted sore. Fortunately, there is a treatment that can target the bacteria responsible for their formation. With laser technology, we have the means to care for your sores while making your procedure more comfortable!
Using Laser Tools To Treat Cold Sores
With laser technology, we can shrink the sores that form and help you avoid painful eruptions! Treatment targets the virus that produces these sores. In taking care of these bacteria, we can stop complications and shorten recovery times. When you feel a sore may be ready to erupt, you can come in for early treatment that ultimately spares you feelings of embarrassment and insecurity.
More Benefits To Laser Technology In Dental Care
Through the use of laser tools, our practice can make many different services more comfortable for you. Treatment options with lasers include:
Laser treatment for TMJ disorder. With laser tools, we can ease tension and inflammation responsible for problems with jaw pain and stiffness.
Treatment for gum disease. Your laser care can more comfortably and conservatively clear away bacteria, and they can help us shrink periodontal pockets that have formed.
Cosmetic dental work. A laser treatment to reshape and remove excess gum tissues can help you feel more confident in the way you look when you smile!
Talk To Your Santa Monica, CA Dentist About Treatment For Your Cold Sores!
The formation of cold sores can be a real problem, but a solution in the form of laser treatment is available! Our practice relies on advanced treatments to take on a number of different problems. Because this technology is available to our patients, we can offer more precise and comfortable care, and we can offer solutions to a range of issues that can affect you. If you would like to learn more about how we can address cold sores, periodontal problems, and other issues with this technology, then please call Santa Monica Dental Arts in Santa Monica, CA today at 310-395-1261.