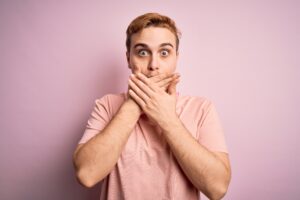 Is there anything you can do to hide a cold sore aside from keeping yourself out of sight until it heals? It may feel as though you simply have to keep yourself hidden or try to cover your smile, but there are treatments that can shorten your time with this embarrassing problem. The laser treatments offered at our Santa Monica, CA dentist's office include work to both shrink an existing lesion or catch one before it can fully develop. By providing this kind of care, we can help you feel better about the way you look! Of course, this is just one of several services we can offer those who want to show off a better smile, as we also provide a range of beneficial cosmetic services.
Are Cold Sores Hurting Your Confidence And Quality Of Life?
When you have problems with reoccurring cold sores, it can be difficult for you to feel good about the way you look, and it can be uncomfortable to even plan activities for fear of a new eruption of a lesion. Knowing that you have the means to stop one from forming, or to shrink one that has already developed, can have a significant positive effect on your appearance and confidence. Because our approach to treating them relies on laser technology to make care more comfortable, it can be even easier than you anticipate to do something about this issue.
Laser Dentistry Helps Us Take On A Range Of Oral Health Concerns
With our diode laser, we can safely target the harmful microbes that cause cold sores to form. By sing this tool to either stopping one before it develops or shortening your time with one that already formed, we can make a once-embarrassing and frustrating problem manageable. We should note that lasers help with other matters, including TMJ disorder, gum disease, and more!
See Lasting Smile Improvements With The Right Procedure!
Through cosmetic dental work, we help people who currently have doubts about their smile feel better about the way they look. Bothered by discoloration? We can talk to you about teeth whitening treatment. Concerns about tooth shape, size, or alignment? We can look into the benefits of care with porcelain veneers and slimmer Lumineers to deliver lasting changes.
Talk To Your Santa Monica, CA Dentist About Treatment For Your Cold Sore
Through the use of our diode laser, we can provide valuable support to individuals who are self-conscious because of their history with cold sore formation. Laser tools are effective at providing a number of treatments. If you would like to learn more about what we can do for your appearance and oral health with laser technology, or if there is anything else that concerns your smile we can address, please call Santa Monica Dental Arts in Santa Monica, CA today at 310-395-1261.