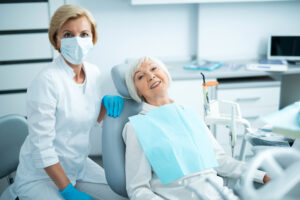 The loss of teeth frequently leads to lost confidence, as this is a problem that can make you self-conscious about your smile, and it can also take away your ability to comfortably bite and chew certain foods. Over time, it can lead to additional difficulties with your oral health, as it can lead to the loss of more teeth and problems with your jaw. At our Santa Monica, CA dentist's office, we can discuss the advantages to treatment with a dental implant-held restoration. With the right restoration, we can make sure that your smile is fully restored, and that your ability to bite and chew food is not compromised by the presence of your prosthetic appliance.
Fully Dealing With Problems Created By Tooth Loss
Tooth loss affects you in ways that are both visible and not visible. The impact on your smile can certainly be hard to ignore. With that said, the empty space in your smile where your tooth once resided is just one of several issues that you will need to manage. You also need to worry about problems with your bite health, neighboring teeth losing stability, and even the loss of density in your jawbone. Fortunately, these are issues that can be dealt with—when you rely on a dental implant to hold your restoration, you can count on better oral health support as well as cosmetic improvements.
How A Dental Implant Improves Your Experience With Prosthetic Treatment
A dental implant is set directly in your jawbone, where it will act to anchor your tooth in place and provide it lasting stability. The process of placing a dental implant calls for minor oral surgery, but we can offer support through sedation and anesthetic to make your experience more comfortable. Once it is in position, and you have gone through an appropriate healing period, you will return to have your replacement tooth put back in place. Its presence will help secure your restoration, and it will even create stimulation in your jawbone to keep it from losing density over time.
Want To Avoid Tooth Loss? Take Care Of Your Gums!
Problems with your periodontal health can lead to tooth loss as well as other lasting health issues. Because our practice has a periodontist on site, you can meet with them to discuss managing your well-being if you have a more serious condition. We can also talk to you about the use of laser technology to help you manage your gum health.
Talk To Your Santa Monica, CA Dentist About Implant Dentistry!
Through implant dentistry, we can give you back the ability to bite and chew with confidence, we can restore your smile, and we can even provide welcome protection for your jawbone. To find out more, call Santa Monica Dental Arts in Santa Monica, CA today at 310-395-1261.