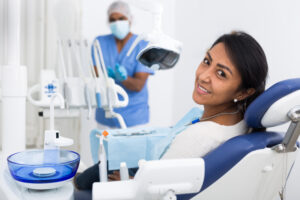 Having access to the right kind of care can prove important when you experience problems with your oral health. What you should know is that the right care can depend on what tools are available at your dentist's office as well as what services are offered. At our Santa Monica, CA dental practice, we use laser technology to take on a number of problems that can affect a person's smile and well-being. In addition to helping us take on more concerns, these tools can make treatments performed in our office easier and more comfortable.
The Right Technology Can Lead To Better Patient Experiences
With the right technology, we can take on different concerns that patients have with their oral health. Sometimes, that means providing the right planning—with our iTero digital scanner, we have a more comfortable means of evaluating patients and developing custom clear aligners. With laser tools, we can offer better treatment experiences that address issues with your periodontal health, jaw pain, and more!
Using Lasers To Provide Periodontal And Dental Care
With lasers, we can make your experiences with periodontal care and cavity treatment easier. Laser-assisted restorative services can make the placement of dental fillings easier when patients are impacted by decay. Lasers also help us make periodontal care more comfortable. Because gum disease can call for treatments in sensitive areas, the accuracy and comfort provided with lasers can certainly be welcome. Lasers also help with recovery, as they minimize bleeding and cause less concern over tissue damage.
Surprising Services That Rely On Dental Lasers
Would you think to ask your dentist about treatment for cold sores? We have the ability to provide soft tissue treatment with laser tools that can eliminate the bacteria responsible for their eruptions. By tending to these microbes, we can shorten recovery time and help you avoid difficulties with infection as well as embarrassment over the way you look. We can even rely on these tools when performing TMJ treatments. When patients experience persistent aches and pains associated with stress and poor alignment of their joints, we can do work to minimize inflammation and provide relief from discomfort.
Talk To Your Santa Monica, CA Dentist About Treatment With Laser Tools!
When you have access to the right services, you can see more benefits from a trip to your dentist's office. At our Santa Monica, CA dental practice, we use different forms of technology, like laser tools, to provide better care for our patients. Whether you are due for a dental checkup or have an active problem you want to discuss, we are ready to help! If you would like to learn more about our office and the services we provide, call Santa Monica Dental Arts in Santa Monica, CA today at 310-395-1261.