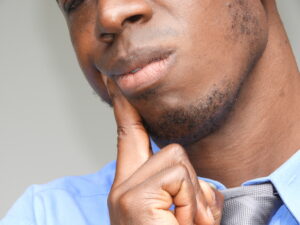 If you have problems with the alignment of your jaw, or if the joints and muscles are under excess tension, you can experience daily issues with TMJ disorder. This is a problem that can lead to facial discomfort and jaw pain as well as problems for your neck and shoulders, headaches, and even teeth grinding issues. At our Santa Monica, CA dentist's office, we can help patients who need to do something about their ongoing issues. With laser technology, we can actually help resolve problems with pain, stiffness, and sensitivity. This non-invasive approach to care can reduce inflammation of the joints, which can lead to welcome relief!
The Negative Impact Of TMJ Disorder On Your Life
When you have problems with tension or poor alignment affecting your jaw, it can be difficult to go through your typical day without some trouble with pain or stiffness in your joints. Because jaw problems can affect the trigeminal nerve, you can experience discomfort in other areas, too. Headaches can often affect people with this issue, as can problems with neck and shoulder pain. While you may think about dental pain in terms of problems with individual teeth, these broader discomforts should be taken seriously. Fortunately, relief is available, as we can provide results through laser treatment.
Using Laser Technology To Provide Relief From Your Jaw Pain And Stiffness
Lasers have several beneficial uses in dental care; in cases where our patients show signs of TMJ disorder, we can use lasers to comfortably relieve inflammation in the jaw joints. No medication is needed for this non-invasive service, which makes it a surprisingly patient-friendly means of enjoying relief. The laser therapy takes place on the outside of the jaw, which can ease the pain you feel in as little as one or two appointments.
Other Effective Uses Of Laser Technology
Through laser technology, we can take on many different problems. We can use these tools to help patients who are impacted by gum disease, as they provide a more comfortable means of removing bacteria on the roots of teeth. They are also effective at fixing problems with unsightly cold sores, and can even help with services like wisdom teeth extraction!
Talk To Your Santa Monica, CA Dentist About Laser Dentistry
Because our practice has access to laser technology, there are different services we can provide to patients that deliver results while making care more comfortable! If you are currently struggling with TMJ disorder, we are ready to meet with you to discuss the positive impact our treatment can have by reducing inflammation at the jaw joints. For more information on this and other matters related to our practice, please call Santa Monica Dental Arts in Santa Monica, CA today at 310-395-1261.