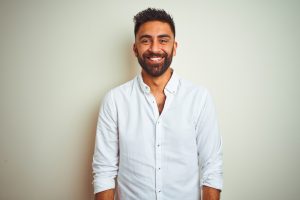 Our goal at our Santa Monica, CA dentist's office is to help you avoid problems that require restorative dental services. Unfortunately, problems can still arise, and that can call for professional treatment. If you have trouble with your oral health, we can evaluate you to see if you might need a dental crown to protect a vulnerable tooth. A custom crown can provide important coverage and support your bite function. Because we provide restorations made with a lifelike porcelain material, your crown can also provide important smile improvement! When it is called for, we can even use a dental crown to close a space in your smile created by tooth loss.
When Is It Necessary To Use A Dental Crown During Treatment?
There are several situations where a crown might be called for as part of treatment, including:
When a cavity forms and does more damage than a filling can address
When physical trauma makes treatment for a tooth necessary
When you need a restoration to address tooth loss
Whenever we address an active oral health issue that calls for a crown, we will take care to provide a custom restoration. A restoration made from lifelike porcelain can provide bite support as well as coverage that preserves the way you look!
Restoring A Damaged Or Unhealthy Tooth
If your tooth is damaged by a cavity, or if a physical injury has made treatment necessary, we can evaluate you to see if the placement of a crown might be appropriate. Before you receive your restoration, we will closely measure the tooth to determine what shape and size it should be. Those measurements are important, as they ensure that treatment is successful, and that your crown does not interfere with neighboring teeth! We will also take care to determine what shade your restoration should be. By tinting the porcelain substance used to make a crown, we can further ensure that your treatment preserves your appearance.
Using A Crown As A Prosthetic Tooth
Without treatment, tooth loss leads to cosmetic as well as functional problems that are difficult to ignore. One way to deal with this issue is to restore your smile with a dental implant-held restoration. Crowns help us restore patients' full smiles, as we can affix them to implants after they have been set in position. After your implant is restored, you can feel confident whenever you bite, chew, and speak!
Talk To Your Santa Monica, CA Dentist About Treatment With A Lifelike Crown
Your Santa Monica, CA dentist's office is ready to help you if you need to do something about an active oral health issue. One thing we can do is provide a custom crown to restore your smile after you suffer a problem with tooth loss, dental decay, or physical trauma. To find out more, please reach out to Santa Monica Dental Arts at 310-395-1261.