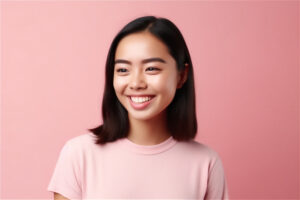 When your smile is affected by misalignment or malocclusion, it can really impact many areas of your life. You depend on your smile for every first impression and job interview, and if you struggle to look your best, these times may pass you by. If you have been looking for a solution, talk to your dentist about clear aligner therapy from Invisalign®.
At our dental office in Santa Monica, CA, we can help you to achieve a more attractive smile with a more private solution. Through the use of nearly invisible clear aligner trays, you can adjust your orthodontics while keeping your cosmetic dental process to yourself. Simply wear your trays throughout the day, and start to work on reaching your smile goal. As your alignment improves, you will swap your clear aligners with a new set, progressively moving closer to the desired location along your oral ridge. Stop struggling with your alignment and instead, reach out to a trusted dentist about your options!
Your Alignment Affects Both Your Appearance And Your Oral Health
When you are struggling with your alignment, it can feel like everyone is looking at your smile all of the time. From your first dates to important job interviews, this can lead you to feel self-conscious about your dentistry. While you may be all too familiar with the cosmetic impacts of your misalignment, did you know that your condition can also affect your ability to keep your mouth safe?
If you have areas where your teeth have started to overlap or crowd, this situation can create areas that are difficult for your toothbrush and floss to fully reach. Plaque and tartar buildup can start to accumulate in these areas where you cannot brush. These harmful forms of bacterial waste contribute to tooth decay and periodontal disease, so take your oral health seriously and talk to your dentist about improving your hygiene through orthodontic treatment.
A More Private Orthodontic Solution With Invisalign®
With clear aligner therapy from Invisalign®, you can let your results do the talking. If you have been holding off on orthodontic treatment due to the intrusion of traditional braces, take some time to speak with your provider about the benefits of Invisalign®. This method uses a nearly invisible set of aligner trays to gently and effectively shift the location of your teeth along your oral ridge. As you reach closer to your orthodontic goal, you will swap out your trays with a new set to further your treatment!
Learn More About Invisalign® Clear Aligner Therapy
To find out more about Invisalign®, or to schedule your appointment for a consultation, give us a call today at Santa Monica Dental Arts in Santa Monica, CA at (310)395-1261.