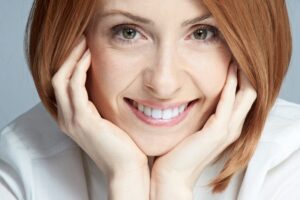 Do you feel completely satisfied by your smile? Are there any issues that you wish you could address to improve the way you look? At our Santa Monica, CA dentist's office, we can do more than just address active oral health issues. Through the right cosmetic procedure, we can help you see exciting, long-lasting benefits that give you more confidence in the way you look. One way we can do this is by planning treatment with either traditional porcelain veneers or Lumineers. With veneers in place to cover flaws, you can show off a brighter, more symmetrical smile, one that is free from any conspicuous flaws that rob you of confidence.
How Porcelain Veneers And Lumineers Help Patients
Both porcelain veneers and Lumineers are able to make welcome changes to your appearance when you smile and speak. Both are capable of making teeth look brighter, hiding visible chips or cracks, and generally making improvements by fixing flaws with tooth shape and size. Both are made from a durable porcelain material, with Lumineers providing a slimmer alternative restoration that requires less preparatory work.
Planning Your Cosmetic Procedure
Based on the current condition of your smile, we can discuss the restoration of one or several teeth. Typically, this approach to cosmetic dental work will call for two appointments. At the first visit, we will take the necessary measurements to determine what shape and size your restorations should be. You can also undergo preparatory work to make space for them, though Lumineers can reduce the need for this. You will complete treatment at a follow-up visit. After confirming that your restorations are the right shape and size, your dentist will permanently affix them. At this point, you can show off a more symmetrical, bright, and attractive smile! Thanks to the resiliency of the porcelain material used to make them, you can count on your results to last for many years. Regular dental exams can provide important feedback about their condition.
What Else Can You Do To Change Your Smile?
There are several solutions available to our patients who want to make changes to their appearance. We can focus on the problem of dental discoloration by providing a teeth whitening treatment. For individuals who want to do something about the way their teeth are spaced, we can recommend that you use clear aligners for corrective work. This is a discreet option for treatment that can be a welcome alternative to metal braces.
Talk To Your Santa Monica, CA Dentist About Veneers!
With custom porcelain veneers or Lumineers, you can take on many different concerns about your smile and enjoy a welcome confidence boost! If you wish to learn more, call Santa Monica Dental Arts in Santa Monica, CA today at 310-395-1261.