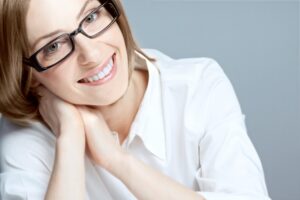 There are different reasons why people have less confidence than they would like in their smile. Unfortunately, even a seemingly minor problem can have the effect of making your smile look awkward because it interrupts your facial symmetry. Our Santa Monica, CA dentist's office understand how important this feature is, and we can work with you to carefully correct esthetic problems that take away from it. We can produce positive results and better smile symmetry in a short time while minimizing changes to your tooth structure. If your issue is with the way in which your teeth are aligned, we can recommend that you use a set of custom clear aligners to gradually move them into better positions.
An Asymmetrical Smile Can Be Hard To Confidently Show Off
It can be difficult to show off your otherwise healthy and attractive smile if it is not symmetrical. Sometimes, the issue is with a single tooth that looks out of place because it is misshapen or damaged. In other cases, the issue is not with a specific tooth but with their overall alignment. The good news is that this is one of the problems that cosmetic dentistry takes on. Based on the reason for your trouble, we can recommend a procedure that gives you the chance to smile with greater confidence.
Planning Cosmetic Work With Veneers Or Lumineers
Cosmetic dental work with porcelain veneers, or with slimmer Lumineers, can produce positive results and give you greater overall changes to your appearance. Both options make changes by covering the front surfaces of your enamel. With veneers, we can place them after a careful review and preparatory work that makes conservative changes to your tooth structure. That preparatory treatment of enamel can be minimized even further or even bypassed with Lumineers.
Using Clear Aligners To Gently Guide Teeth Into More Appropriate Alignment
Problems with poor teeth spacing can be hard to live with, but the idea of treatment with metal braces can be less appealing to many adults. We can offer a different solution with a set of clear aligners. Advanced imaging technology is used to evaluate your smile alignment and teeth so that we can prepare a set that are just right for you. Wearing each one for its designated time will allow you to gradually move teeth so that your smile is more uniform and attractive.
Talk To Your Santa Monica, CA Dentist About Finding A Path To A More Symmetrical And Attractive Smile
By making changes to your smile so that it has a more symmetrical appearance, we can help you project more confidence and generally enjoy your appearance. If you would like to find out more about how our work can benefit you, call Santa Monica Dental Arts in Santa Monica, CA today at 310-395-1261.