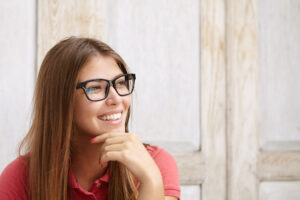 As long as you have problems with your appearance when you smile, you can find it hard to feel truly comfortable with the way you look. Flaws that affect our teeth can have an outsized impact on how we feel about ourselves; fortunately, just one procedure can be all that you need to make meaningful improvements to the way you look! At our Santa Monica, CA dental practice, you can learn about the positive impact that veneers can have on your appearance. With traditional porcelain veneers or slimmer Lumineers, we can make your smile more symmetrical, brighter, and generally better looking while only making minimal changes to your enamel.
We Can Help You See Remarkable Smile Improvements
Cosmetic dentistry can resolve many different problems with a person's appearance. Concerns about discoloration, trouble with wear and tear, poor teeth spacing, and even problems with misshapen teeth can be fixed through conservative means. What this means is that in a short time, and with only modest changes to your enamel, you can see remarkable improvements that give you a significant boost to your confidence! One way to approach cosmetic work is with veneers. Both traditional veneers and Lumineers, a more slender alternative restoration, can take on several problems at once, leading to many benefits in just a short time!
Planning A Procedure With Porcelain Veneers Or Lumineers
Through the use of veneers and Lumineers, we are able to help patients make meaningful changes to the way they look when they smile, laugh, and speak. These restorations cover the front surfaces of teeth to cover up concerns about discoloration, dental wear and tear, problems with teeth spacing, and even trouble with chips and cracks. To make the right improvements, we will carefully measure your teeth to determine what shape and size your restorations should be. In addition to doing this, we can provide preparatory work to make sure your veneers will look natural when applied. Because Lumineers are slimmer, they can require less preparatory work to make positive changes to your appearance!
Using Porcelain-Made Dental Crowns To Restore Your Smile
There are sometimes concerns about the health of teeth, or their ability to absorb bite pressure, that affect our ability to move forward with cosmetic work. If we have these concerns about your smile when you look into cosmetic dentistry, we can talk to you about having custom porcelain crowns put in place. With these restorations, we can fix flaws that impact how you look as well as your bite and oral health!
Talk To Your Santa Monica, CA Dentist About Cosmetic Work With Veneers
Through treatment with custom veneers, we can help you take on smile flaws and raise your confidence! If you would like to learn more about this and other services that we provide, call Santa Monica Dental Arts in Santa Monica, CA today at 310-395-1261.