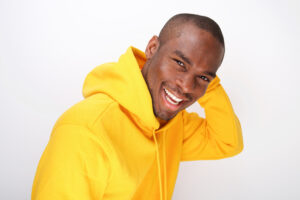 If you have problems with your smile, you can find that cosmetic dental work is surprisingly easy to fit into your life. Because of this, you can kick off 2022 with a more attractive appearance and more overall confidence! Our Santa Monica, CA dentist's office is happy to meet with you and talk with you about what you can do to fix problems like discoloration, dental damage, and more. As exciting as it can be to look at how cosmetic dental work can change your smile, make sure you also take your oral health care seriously. We can meet with you to provide routine preventive services, and we can take care of any active problems with your well-being.
Is The New Year The Right Time To Change Your Smile?
What are you ready to change about yourself in the new year? If one of your resolutions for 2022 calls for changes to your smile, our practice is certainly ready to help. We know that patients have different reasons for looking into cosmetic dentistry. Some will want to see what they can do about worsening dental discoloration. Meanwhile, others will have problems with the condition, shape, or size of teeth that may make their smile look awkward or uneven. We can help you take on these problems. We can even take on problems with malocclusion, as we offer treatment with clear aligners to make orthodontic work discreet.
Reviewing Your Different Options For Cosmetic Treatment
Through the different cosmetic services that we offer, we are able to address the needs of patients with different priorities:
For patients who are tired of showing off dull, discolored teeth when they smile, we can recommend teeth whitening treatment. This service takes on problems with worsening enamel stains. We can help you make significant improvements, exceeding the kinds of changes you can make with a store bought alternative treatment.
If you are embarrassed by dental wear and tear, concerned about the shape or size of certain teeth, or want to hide minor spacing issues, we can recommend that you receive porcelain veneers. These slender restorations hide problems while only taking up a small portion of your enamel. Another option is to undergo treatment with Lumineers, which are slimmer in their design.
When patients have concerns about poor teeth spacing, we can offer up clear aligners as treatment. With these appliances, we can do the kind of work you expect from metal braces. However, we can make it more convenient and discreet by using removable clear appliances to straighten your smile.
Talk To Your Santa Monica, CA Dentist About Making Lasting Smile Improvements
With the right approach to cosmetic dental work, we can help our patients see remarkable changes in the way they look. If you would like to find out more, call Santa Monica Dental Arts in Santa Monica, CA today at 310-395-1261.