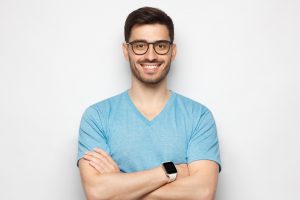 How do you feel about your smile today, and what can you do to make the kind of improvements you would like to see? Through cosmetic dental work, we can make significant changes to your smile, which can lead to a big confidence boost. Our Santa Monica, CA dentist's office is able to help patients with different concerns about the way they look. We can recommend treatment based on both the current appearance of your teeth and your expressed goals for improvement. Because we provide porcelain veneers that are custom-made for you, we can take on a variety of issues and make sure you have lasting benefits after just one procedure!
How Do You Feel About Your Smile Right Now?
Do you currently feel that your smile is as attractive as it could be, or are you interested in taking care of flaws that make you self-conscious? Many people have at least a few concerns about the way they look, and some may feel that they need to take on several problems to truly feel comfortable with how they look. If you want to do something to make several changes at one time, we can offer improvements through porcelain veneers. We also provide options for treatment like teeth whitening, which focus on making changes to the color of your teeth by removing stains.
Reviewing Plans To Improve Your Appearance Through Treatment
We can talk to you about how the right cosmetic treatment can benefit you. What many people find is that porcelain veneers give them their desired results, as these thin restorations are able to hide problems with discoloration, dental damage, and even problems with poor teeth spacing. Because you can see so many changes with this one procedure, it can take less time than you anticipate to see all of your goals for esthetic improvements reached!
Discussing Cosmetic Work With Clear Aligners
Did you know that your dentist can help you deal with problems linked to poor teeth spacing? With clear aligners, you can move your teeth into better positions to address concerns about gaps, overlaps, and other alignment problems. Clear aligners help you enjoy a discreet treatment, one that draws less attention than metal braces and does not interfere with your ability to eat and clean your teeth.
Talk To Your Santa Monica, CA Dentist About Cosmetic Dentistry
Through the work we can do to change your appearance, we can give you newfound confidence in your smile! Multiple treatment options are available to help you take care of your current concerns about the way you look. We are happy to help you understand the benefits of a particular treatment, and we can make sure that you see results that give you a lasting confidence boost. To find out more, call Santa Monica Dental Arts in Santa Monica, CA today at 310-395-1261.